Emasculating The Black Male
Trending in Black Hollywood, is not a new trend.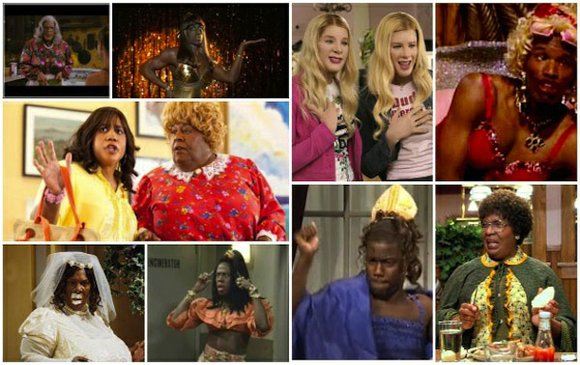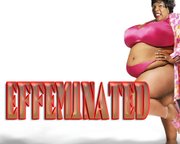 Black male actors has been in some cases forced into being casted to dress and lipstick and portray a woman or don't work. This has been White Hollywood's answer to put a stopping to mixed marriages and White male Hollywood how have always been the gay in the closet crowd executives calling the shots, green lighting projects and saying yes and no to projects, who have always run Hollywood. Its their chance to play with and control and decide the careers of the dark meat actor! Oh yes. Hollywood is just as prejudiced as any Southern state and other states in the US.
Just as Haley Berry was forced to do the nude scene with Billy Bob Thornton to win the Oscar for a basic whore role.
In this reporter's opinion, a heterosexual male will not allow you to put him in a dress and lipstick.
Here are 15 Actors Who Wore a Dress for Success
Black actors forced to wear a dress and lipstick, black actors in drag are:
Arsenio Hall, Brandon T. Jackson, Chris Tucker, Eddie Murphy, Flip Wilson, Jamie Foxx, Kenan Wayans, Martin Lawrence, Miguel Nunez, Shawn and Marlon Wayans, Tracy Morgan, Tyler Perry, Ving Rhames, Wesley Snipes
This is not comedy, nor entertainment. It is a threat to the sheer foundation of the Black family unit. Our children copy what they see in media. This is by far the worst example of fatherhood ever imposed on a generation and it only continues to get worse. Here is the list and it begin long before this new generation, but this generation seems to adhere to is as a cult following as oppose to mere slap stick comedy routine and a blatant slap in the face of the Black community.
Flip Wilson
When: 1970 – 1974
TV Show: The Flip Wilson Show
Role: Flip Wilson was one of the pioneers of comedy for Black people and his Flip Wilson Show helped him gain success during the seventies. However even back then, talented Wilson resorted to drag for his character Geraldine.
Eddie Murphy
When: 1996 and 2007
Movie: The Nutty Professor and Norbit
Roles: Eddie Murphy is well-known for dressing up and physically transforming into his characters, especially women. Murphy played two women in The Nutty Professor where he performed a total of seven roles. But his most questionable female character portrayal was rowdy Rasputin from the movie Norbit, who Murphy played as grossly overweight, wearing dresses and bikinis.
Jamie Foxx
When: April 1990 to May 1994
TV Show: In Living Color
Roles: Before he was an Academy Award-winning actor, Jamie Foxx would wear drag to entertain audiences. During his time on the hit television show In Living Color, Foxx dressed up as the character Wanda in comedy skits.
Chris Tucker
When: 1997
Movie: The 5th Element
Role: Although Chris Tucker was gaining fame at the time from his role in the movie Friday, before he could break out to mainstream success he played the flamboyant female character Ruby Rhod in the movie The 5th Element.
Wesley Snipes
When: 1995
Movie: To Wong Foo, Thanks For Everything Julie Newmar
Role: Wesley Snipes role in To Wong Foo, Thanks For Everything Julie Newmar differs than the other examples on the list because his character was a drag queen. Nonetheless it was unusual to see the typically macho Snipes dressed as a woman.
When: 1992-1997 and 2000, 2006, 2011
Movie/TV Show: Martin and the Big Momma movie series
Roles: Martin Lawrence, like Murphy, is notorious for playing women on screen. On his hit television show Martin, he would play the recurring female character Sheneneh. Lawrence wore a dress again on the big screen in his role as Big Momma, completing Big Momma's House in 2000, Big Momma's House 2 in 2006 and Big Momma: Like Father, Like Son in 2011.
Brandon T. Jackson
When: 2011
Movie: Big Momma: Like Father, Like Son
Role: Following in Martin's footsteps, young actor Brandon T. Jackson joined the dressing-up act in the movie Big Momma: Like Father, Like Son.
The biggest trade out and sell out of them all. Tyler Perry. At a time when there are no roles for sophisticated or otherwise trained union Black female actress, why does this MAN have dress as a woman, and all to portray 5 different female characters in one film, not to mention the rest of his buffoonery based films. Ever wondered why there are no A-List Black actors in any of his productions?
Tyler Perry
When: 2000 – Present
The Role: Tyler Perry
s Madea character has been an integral part of building his multimillion dollar film and television empire. Madea, a tough elderly grandmother played by Perry, appears in a series of movies including Madea Goes Jail (2009). Perry in the role of Madea.
Arsenio Hall
1988
Movie: Coming To America
Role: Before Murphy started playing female characters in The Nutty Professor and Norbit, his friend and costar Arsenio Hall dressed as a woman in their classic movie Coming To America. Hall goes full drag for a scene in the movie.
Miguel Nunez Jr.
2002
Movie: Juwanna Mann
The Role: The plot of the movie Juwanna Mann is a prime example of what Chapelle talks about and refuses to portray. Notice how Mr. Chapelle's work has dropped considerably?
Nunez plays is a Black male character who gets kicked out of the basketball league and has to dress up as a woman and play in the WUBA (a fictional women's league) to become a star.
Kenan Thompson
2003-Present
Show: Saturday Night Live
Roles: As a young black actor on one of America's largest comedy shows, Thompson is repeatedly asked to wear a dress. The show has historically not cast many Black actresses and instead resorts to making the Black male actors dress up as women for skits.
Ving Rhames
2000
Movie: Holiday Heart
Role: Ving Rhames is typically known for playing macho roles in his movies. But in 2000 he played the character Holiday Heart in a film of the same name and he dressed in full drag.
Tracy Morgan
2002
Show: Saturday Night Live
Role: Once again on SNL, the lack of Black actresses leads comedian Tracy Morgan to a tasteless portrayal of great American author-poet Maya Angelou. Total disrespect for one of America's Iconic Authors and historians.
Shawn and Marlon Wayans
2004
Movie: White Chicks
Roles: The Wayans Brothers movie White Chicks is the most egregious example on this list. In the movie, the two Black men dress up as white women to become undercover agents, equally offending men and women, Black and white people.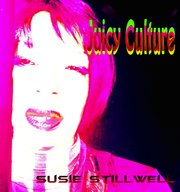 Celebrities Who Spoke Out Against Black Entertainers in Drag
Today's male trends have crossed into new territories that are causing pause – skinny jeans, UGG boots and skirts.
Many believe this effeminizing of the Black male is a covert operation filtered through hip-hop and that Hollywood is attacking the Black male on the most rudimentary level— what he wears.
Dave Chapelle
I will not wear a dress and lipstick!
Comedian Dave Chapelle famously pushed the topic of feminization of the Black male to the forefront of Black Hollywood's consciousness when he sat down with TV talk show host Oprah Winfrey in 2010. Chappelle had just returned from his Africa trip after his $50 million dollar abandonment of his namesake sketch comedy show.
The trip and the walk-out were signs to the public that he was unraveling, and for this reason many wrote his claims off. But recently, people are taking note of his revelation.
"I'm a conspiracy theorist to a degree," he said. "I connect dots that maybe shouldn't be connected, but certain dots, like when I see that they put every Black man in the movies in a dress and lipstick at some point in their career, I be connecting that, like, why all these brothers gotta wear a dress?"
Chapelle candidly shared during the interview that while on the set of a movie, he was asked to portray a male prostitute and was told he would be required to wear a dress.
Chapelle adamantly opposed it, standing firm on his belief that Black men could be both entertaining and marketable without having to wear a dress at some point in their careers. Mr. Chapelle has not worked very much since.
Lord Jamar
Lord Jamar, member of Brand Nubian, a famed '90s underground rap group, didn't skirt around his distaste for the issues of Black men in dresses and lipstick. Jamar said skirt-wearing is the current phase in a movement towards excessively "softening" the image of Black men in entertainment to the extreme of femininity. He says it began with Black men wearing earrings in the '80s and '90s, a trend that evolved to them draping themselves in diamonds, which, as the age-old aphorism proclaims, are a girl's best friend. That trend transitioned to the skinny jeans craze and now to wearing skirts and dresses.
Jamar credits rap moguls like Jay Z and Kanye West for shepherding these trends — Jay Z led the culture in abandoning gold chains and adopting platinum and diamond jewelry, while Kanye introduced the black leather skirt.
Jamar says the creation of these trends and the successfully adoption by fans is fuel to the egos of Black male entertainers. He says the stars' need to be validated by the reach of their influence is corrupting the culture.
"In order to preserve a culture there are certain guidelines and boundaries that have to be there," he said. "I have no problems with pushing boundaries, but everything has its limits. How far do you go with this pushing of boundaries before you've turned it into something else? Jamar made the list twice. This time, for speaking out against actor Omar Epps who recently wore a leather skirt on The View while doing press rounds for a new television series.
Social media was buzzing with commentary.
Jamar chimed in: "So now OMAR EPPS has joined the SKIRT GANG??? Say it aint so!!! Old heads are supposed to know better."
Epps defended his skirt saying it was an informed nod to his ancestry.
"The uninformed couldn't understand my contemporary ode to my Zulu warrior roots. The Maasai, Fante, etc. It's tribal, study our history," he added.
Epps' response poses an interesting question. Is cultural appreciation of this kind appropriate for a generation so far removed from its core practices?
Camron
Harlem-based rapper Camron didn't hold any punches when he dissed hip-hop elite Kanye West's attire for his 12-12-12 benefit concert for Hurricane Sandy relief. During the show, West wore a leather Givenchy skirt, or kilt, atop leather pants paired with a black hoodie under a Pyrex jersey. Camron aired his disapproval.
"Pyrex and a skirt? St ain't adding up And if u co-sign this I'm blocking u!! Straight up. Ima have to save us."
John Singleton
Director John Singleton, ("Boyz 'n The Hood," "Baby Boy"), griped to Black Star News in late 2007: "I'm tired of all these Black men in dresses … How come nobody's protesting that?"
This comment came on the heels of the derogatory remark by radio shock jock Don Imus, who called the Black women of the Rutgers Basketball team, "nappy headed hos."
When asked about the incident, during the same interview, Singleton said that Black people should accept a degree of ownership for familiarizing the dominant culture with the offensive slurs that we use against each other. Singleton suggested the way we are perceived has been at our own invitation.
The director, who is intent about telling a holistic story reflective of the truths in Black culture, especially those of the impoverished Black male, is turned off by the major lie that seems to be infiltrating Hollywood — that Black men are comfortable wearing dresses as way to pacify an intimidated white America.
Katt Williams
In April 2013 comedic heavyweight Katt Williams responded to comedian Kevin Hart, who wore a dress during a Saturday Night Live skit parodying actress Quvenzhane Wallis.
In an interview promoting Scary Movie V, Williams said: "It was his turn," to acquiesce to the inevitable call to wear a dress that is presented to Black entertainers.
"At the end of the day, Kevin doesn't have to worry about what people are going to say about him wearing a dress because of the long line of dress-wearing [men] before him," Williams said.
Hart added that putting on a dress is a matter of choice, and Hart chose to do it.
Hart was also questioned in an interview with Black Tree TV following the SNL skit, he responded:
"I was one of those comedians who said I would never wear a dress, but when [presented] with the opportunity of what I felt was funny I said, 'Oh that's funny. I will do it.' It's all about making the choice about what's funny to you."
He added: "Nobody makes you do anything … Nobody made Martin put on a dress in Big Momma's House; nobody made Tyler Perry put on a dress as Madea; nobody made Jamie Foxx put on a dress as Wanda; nobody made Martin do it as Sheneneh. It was a choice."
Quite the contrary Kevin Hart. Certain executives will green light projects that defame the male character, both on and out of film. They will NEVER green light a positive love story about a Black family or couple, but the moment some buffoonery about a Black man in a dress is presented, or a Black woman portrayed as a whore or a low life street walker, or some other derogatory character, the green light is immediate.
From the beginning of slavery, the Black man and woman were nothing more that entertainment for the White slave owners. Something for them to laugh at. Well folks almost 400 years later, they are still laughing at you. You are and never will be considered a citizen that produces something good, wholesome, and positive nor anything that remotely looks like a positive role model character or role in TV and movies.
In the absence of pride comes buffoonery wrapped in a package called entertainment.
With the dumbing down of America, our children do not seem to know the difference nor care to. They are too busy emulating the fraud.

A list of White male actors cross dressing for success:
It all begin with
Charlie Chaplin 1914,
Fatty Arbuckle
Alec Guinness 1949
Jerry Lewis
Michael J. Foxx 1989
John Travolta
Adam Sandler
For comments go to susiestillwell111.com. Click on Juicy and scroll to comments. Or email us at juicy_culture33@yahoo.com
I am Susie Stillwell for Juicy Culture. Not afraid to voice the truths and put them in your face. Keeping it real to Reel!
For more stories by Susie Stillwell visit stylemagazine.com and www.facebook.com/pages/Susie-Stillwell