Same-Sex Marriage Fast Facts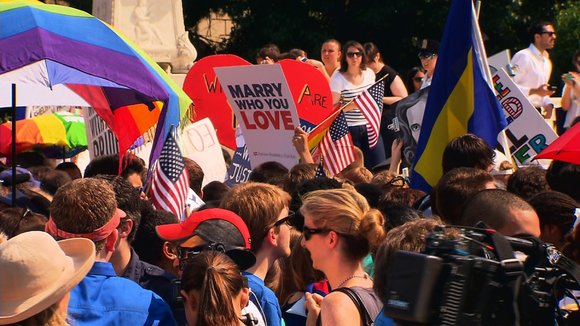 Here's some background information about same-sex marriage in the United States and worldwide.
Facts:
LEGAL In the following 19 states: and the District of Columbia: California, Connecticut, Delaware, Hawaii, Illinois, Iowa, Maine, Maryland, Massachusetts, Minnesota, New Hampshire, New Jersey, New Mexico, New York, Oregon, Pennsylvania, Rhode Island, Vermont and Washington.
BANNED In the following states: Alabama, Alaska, Arizona, Florida, Georgia, Indiana, Kansas, Louisiana, Mississippi, Missouri, Montana, Nebraska, Nevada, North Carolina, North Dakota, Ohio, South Carolina, South Dakota, Tennessee, West Virginia and Wyoming.
UNDER COURT REVIEW In the following states: Arkansas, Colorado, Idaho, Indiana, Kentucky, Michigan, Oklahoma, Texas, Utah, Virginia and Wisconsin.
Worldwide 16 other countries (and parts of Mexico) also have laws allowing same-sex marriage and domestic partnerships. Most of these are in Europe and South America.
Civil Unions: Civil unions grant couples most of the rights of state civil marriages, but provide none of the federal benefits of marriage, such as Social Security benefits.
These rights include spousal support, medical decision-making privileges, access to a partner's insurance, and hospital visitation rights.
Civil unions are legal in Colorado.
Timeline (U.S. only): September 21, 1996 - President Bill Clinton signs the Defense of Marriage Act banning federal recognition of same-sex marriage and defining marriage as "a legal union between one man and one woman as husband and wife."
December 3, 1996 - A Hawaiian state court ruling makes Hawaii the first state to recognize that gay and lesbian couples are entitled to the same privileges as heterosexual married couples. The ruling is stayed and appealed the next day.
December 20, 1999 - The Vermont Supreme Court rules that gay and lesbian couples should be given the same rights as heterosexual couples.
November 18, 2003 - The Massachusetts Supreme Court rules that a ban on same-sex marriage is unconstitutional.
February 12-March 11, 2004 - Nearly 4,000 same-sex couples get marriage licenses in San Francisco, California.
February 20, 2004 - Sandoval County, New Mexico, issues 26 same-sex marriage licenses, but they are nullified by the state attorney general the same day.
February 24, 2004 - President George W. Bush announces support for a federal constitutional amendment banning same-sex marriage.
February 27, 2004 - New Paltz, New York, Mayor Jason West performs same-sex marriages for about a dozen couples.
March 3, 2004 - In Portland, Oregon, the Multnomah County Clerk's office issues marriage licenses for same-sex couples. Neighboring Benton County follows, on March 24.
June 7, 2004 - Jason West, the mayor of New Paltz, New York, is issued a permanent injunction by the Ulster County Supreme Court against marrying same-sex couples.
March 11, 2004 - The California Supreme Court orders San Francisco to stop issuing marriage licenses to same-sex couples.
May 17, 2004 - Massachusetts legalizes same-sex marriage, the first state in the U.S. to do so.
July 14, 2004 - The U.S. Senate blocks a proposed constitutional amendment to ban same-sex marriage from moving forward in Congress. (48 votes out of 60 needed)
August 12, 2004 - The California Supreme Court orders San Francisco officials, including Mayor Gavin Newsom, not to license additional same-sex marriages, pending resolution of the constitutional challenges to state marriage statutes