What will and won't get done before Congress leaves town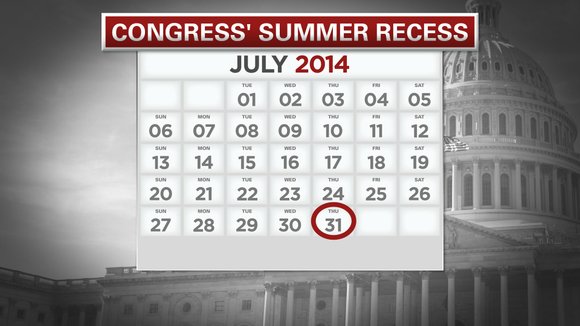 Congress faces several big issues before beginning its August recess at the end of the week. While it appears lawmakers might get to a few things on the to-do list, other matters are likely to be left until they return in September.
Here's what will and won't get done before the end of the week:
Crisis on the border: Agencies responsible for dealing with the influx of youth migrants from Central America on the southern border could run out of money next month.
But competing legislative proposals means it's highly unlikely a resolution will materialize before Friday. Senate Democrats are looking at a $2.7 billion plan to address the border crisis, while House Republicans are crafting a measure totaling less than $1 billion. President Barack Obama has asked Congress for $3.7 billion.
The major sticking point overall is whether to change a 2008 law to make it easier to deport those streaming across the border from El Salvador, Guatemala and Honduras.
Most Republicans argue for the change in policy because it can take months or years to determine legal status under current law. They want to link any new money to a change in the 2008 law.
Most Democrats oppose altering the law, saying doing so could lead to an unfair process that might short-change kids fleeing gangs and violence who want to stay in the United States legally. They want any new money to include no change in policy.
But Democrats have sent mixed messages. Obama top administration officials say they are open to addressing the 2008 law, while Hispanic lawmakers and top leaders warn any major revisions are unacceptable.
House Republicans are expected as early as Monday to unveil details of legislation that would fund border and other related agencies through the end of September. They could vote by week's end.
Speaker John Boehner says he wants the House to act but it's unclear if anything can pass.
A fix for veterans' health care: CNN uncovered troubling stories of delayed care for veterans, some of whom died. Allegations surfaced of secret waiting lists for patient care, mismanagement, and bonuses for executives who oversaw such dysfunction. Investigations were launched, the VA secretary resigned, and Congress stepped in.
Veterans caught up in the bureaucratic mess who feared retaliation for speaking out prompted Congress to fast-track legislation to revise procedures at hospitals and provide more resources to address case backlogs.
Senate Veterans Affairs Committee Chairman Bernie Sanders, a independent who normally sides with Democrats, and his House Republican counterpart, Rep. Jeff Miller, announced a deal on a $17 billion pacage on Monday.
Public outrage over the alarming VA shortcomings has lit a fire under Congress to ensure a final measure gets to Obama before week's end.
On Friday, 115 House members wrote to Boehner demanding that Congress stay in session until it approves a bill on veterans care.
The Senate is expected to confirm Robert McDonald, a former CEO of Proctor & Gamble and a West Point graduate as the next VA secretary as early as Tuesday.