What will and won't get done before Congress leaves town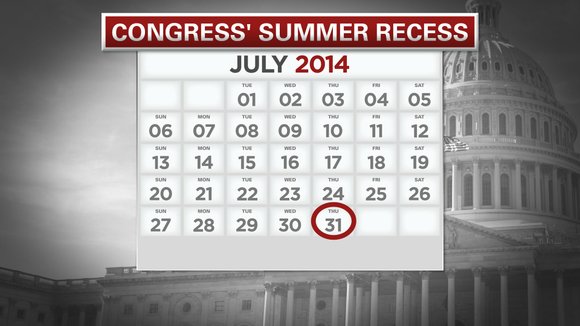 Highway fund running on empty: The highway trust fund, which pays for road and bridge repair carried out by the states, is about to run out of money.
Funded by gasoline taxes, the account has been in trouble for years with prices at the pump steadily higher and people driving more fuel efficient cars and trucks. The sluggish economy also has cut down on fuel purchases.
Less money going into the trust fund fund means hard choices. Raising the 18.4 cents per gallon gas tax is a non-starter, especially in an election year.
So where will the money come from? Congress in the past has diverted billions in general tax revenues to shore up the trust fund, and that is what's on the table now.
A short-term House bill would infuse the trust fund with $11 billion in new revenue. It is expected to pass the Senate this week. But that measure just means this emergency will arise again next May, when the balance gets low again.
Without federal money, states will have to curtail -- and shut down, in some cases -- road projects. That's unappealing on both sides of the aisle since construction provides a lot of jobs and fuels economic growth in other ways.
House Republicans vs. Obama: The House is expected later this week to pass a resolution authorizing Boehner to sue Obama for exceeding his executive authority.
Republicans are basing the case on Obama's decision last year to authorize a one-year delay in the Obamacare requirement that businesses provide health coverage.
Although House Republicans voted to do the same thing, they maintain it's the job of Congress to change the laws, not the President's
"This is also not about me vs. President Obama. This is about future Congresses and future presidents. There is a conflict between the executive branch and the legislative branch of our government. It is the judiciary branch's role to help resolve it," Boehner wrote on Monday in a USA Today opinion piece.
House Democrats are using the case to raise money and make argument that the suit is merely a political move to rally the Republican base ahead of the midterms.
There is a small contingent of House conservatives who want to impeach Obama, but Boehner has said multiple times that he disagrees with such a step.
A CNN-ORC poll released last week shows that nearly two thirds of Americans oppose any move to impeach Obama.
Funding government agencies: The most basic function of Congress is its power of the purse. It decides annually how much each agency can spend.
To date, the House has passed about half of the annual spending bills establishing budgets for these departments for the fiscal year starting October 1. But the Senate has not voted on one yet.
Unless both pass some type of massive spending bill to cover everything at once before the end of September, there could be another federal shutdown. Remember last fall.
Boehner has said he expects the House to approve a resolution extending current levels of funding through some time in December. When lawmakers return after Labor Day, there are about 10 days left in the legislative calendar for a deal to come together.
For information go to http://www.cnn.com