'Sharknado 2' set to take TV by storm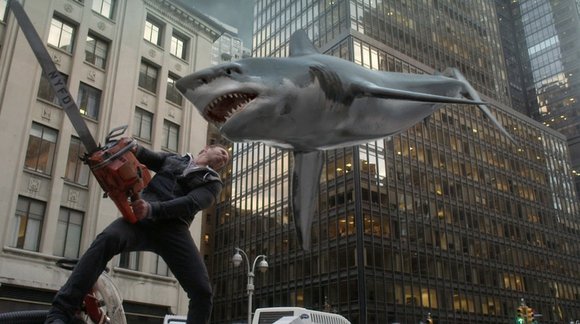 The "Sharknado" TV movies are not the first or last to take on the topic of vicious sharks attacking vulnerable humans (although, they are perhaps the first to have sharks soaring overhead in a tornado). The movies pay tribute to some of their predecessors while also trying to bring something new to the screen.
Of course, the concept of an out-of-control "Sharknado" descending on the country's biggest cities is completely original, invented by director Anthony Ferrante.
At least one star has said she thinks it's not beyond reality. Reid recently told GQ magazine she believes a sharknado is possible.
"You know, it actually can happen," she said. "I mean, the chances of it happening are very rare, but it can happen actually. Which is crazy. Not that it -- the chances of it are, like, you know, it's like probably 'pigs could fly.' Like, I don't think pigs could fly, but actually sharks could be stuck in tornados. There could be a sharknado."
Syfy has already signed on for a third "Sharknado" movie. Screenwriter Levin predicts that after New York goes down, there might be a "global Sharkapocalypse."
Levin has a few tips for the fans gearing up for "Sharknado 2's" big touchdown.
"You definitely have to watch it with friends," he said. "I think alcohol would probably be a good ingredient. You need popcorn, to eat it and also throw at TV. And those inflatable air sharks floating around your house would be a great addition."
"Sharknado 2: The Second One" premieres at 9 p.m. ET Wednesday on Syfy.
For more information go to http://www.cnn.com