U.S., EU coordinate on Russia sanctions, but will they work?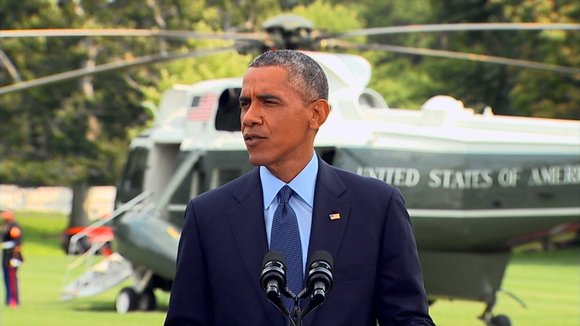 More Russian aggression in Ukraine. More U.S. and European sanctions imposed on Moscow.
What seems like diplomatic tail-chasing so many months into the Ukraine conflict invites questions about how Western powers can defuse the worsening conflict in Eastern Europe.
U.S. President Barack Obama and the European Union raised the stakes on Tuesday, announcing long-threatened sanctions that target Russia's state-owned banks, weapons makers and oil companies, along with top cronies of President Vladimir Putin.
They want Putin to stop arming pro-Russian separatists fighting the Ukraine government and instead support a political process that entrenches President Petro Poroshenko's elected leadership.
A deeper concern is that Putin may be planning to grab more territory from the former Soviet satellite following Russia's annexation of Crimea earlier this year.
Russia denies such ambitions and criticizes sanctions as unproductive, with the Foreign Ministry saying Wednesday that the new penalties will harm relations with the United States and "create a poor environment in international affairs where the cooperation between our countries often plays a key role."
Here is a look at the latest sanctions and what might come next.
How did we get here?
The Ukraine crisis developed from huge protests in Kiev late last year that led to the February ouster of pro-Russian President Viktor Yanukovych.
In the ensuing political chaos, the pro-West Poroshenko got elected while Russia grabbed control of Crimea, an ethnic-Russian territory home to its Black Sea fleet.
Obama and U.S. allies protested by suspending Putin from the G8 summit and imposing a series of limited sanctions, warning of tougher measures targeting specific economic sectors if Russia's aggression continued. It did, with the separatists armed and trained by Moscow rebelling in eastern Ukraine.
In response, Obama announced expanded U.S. sanctions on July 16 that targeted two Russian state-owned banks, two energy companies, eight weapons makers, along with some Putin associates and separatist leaders.
Europe's major economic ties with Russia -- about $500 billion in trade and investment per year -- caused the European Union to balk at joining Washington then.
The next day, a missile fired from separatist-held territory downed a Malaysia Airlines jet in the conflict zone, killing all 298 people aboard.
Now the separatists are hindering access to the crash site amid fighting in the area, and Russia is sending heavy weaponry to them while deploying troops along the Ukraine border.
What the European Union did
Almost two weeks after Obama initially expanded the U.S. sanctions, European leaders agreed Tuesday to coordinate similar steps.
In a major expansion signaling new resolve, they went after eight of Putin's top associates, along with Russia's finance, energy and weapons industries.
The new EU sanctions will restrict Russian state-owned banks from accessing European capital markets, and stop or slow the export of oil-related equipment and technology to Russia.
They also will stop new contracts for arms imports and exports between the European Union and Russia, and prohibit the export of goods and technology that can be used for both military and civilian purposes.