What Does #DCTrinity Mean, And How Will Wonder Woman Live Up To It?
Willie Grace | 7/31/2014, 6 a.m. | Updated on 7/30/2014, 6:39 p.m.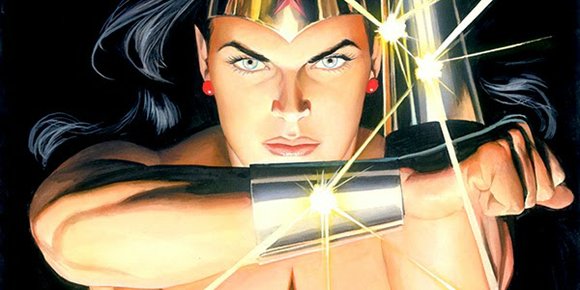 Is a hashtag a promise? That's what came to mind over the weekend during San Diego Comic Con, as Zack Snyder introduced his Wonder Woman, Gal Gadot, with an intriguing hashtag: #DCTrinity.
This could just be a way to emphasize that Wonder Woman is, indeed, DC's third most well-known character, and that now all three central characters at the heart of Batman V. Superman: Dawn Of Justice have been seen by the public. The trinity is complete – we no longer need to show you any more photos until be debut a trailer in, oh, maybe a year.
Or maybe it's something more. If Warner Bros. is serious about establishing their own superhero universe, they'll have to have a lynchpin, and it need not be one character. Batman and Superman are clearly the most visible heroes in DC's cinematic world thus far, but in the comics they hold down the foundations of the superhero world alongside Wonder Woman.
Obviously that's not the same in film. We've had many Superman films since the 1978 original. And only a couple of years pass before we get a new Batman film. But this is the live-action debut by Wonder Woman in this contemporary universe, and as played by Gal Gadot, she's set to appear in a slew of movies following Dawn of Justice. Snyder and company could be looking to establish the trio onscreen as the driving force behind their movie universe as well. By having Gal Gadot join Henry Cavill and Ben Affleck onstage at Comic-Con, Snyder was saying he wants them to be equals, he wants Wonder Woman to be just as crucial to their movie universe as the Man of Steel and the Caped Crusader.
For more information go to http://www.cinemablend.com