Australia's Tony Abbott heads to Indonesia to warm frosty ties
Willie Grace | 6/3/2014, 2:18 p.m. | Updated on 6/3/2014, 2:18 p.m.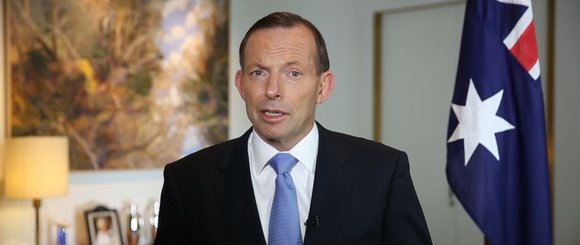 Tough asylum policy
One of Abbott's main pre-election policies was a tougher stance on asylum seekers who arrive in Australian waters by boat.
As well as a continuation of offshore processing, the Liberal leader advocated a "turn-back" policy; approval for the Australian Navy to force boats in Australian waters to turn around "when it is safe to do so."
The policy rankled Indonesia, especially after a Joint Review by Australian authorities found Australian vessels "inadvertently" strayed into Indonesian waters six times between December 2013 and 2014.
"The Indonesia government has I think quite fairly been arguing for some time that there needs to be regional cooperation on the issue of asylum seekers and indeed the stop the boats policy was seen as a unilateral action," Tapsell said.
During the eight months it has been in power, Abbott's government has succeeded in drastically reducing the number of boats arriving in Australia.
The Prime Minister told the ABC the government's policies had removed a "source of friction" with Indonesia -- "Because none of them are making it to Australia, very few of them are leaving Indonesian shores. The whole point of leaving Indonesia is to get to Australia and if you never get to Australia, why bother leaving Indonesia?"
After the phone tapping controversy, Indonesia called for a "code of conduct" to be agreed before relations return to normal. However it's unlikely it will be announced this week as the document is still being drafted.
Beyond Indonesia
After Indonesia, Abbott is due to attend the official D-Day commemorations in France on June 6, before traveling to Canada for trade talks with Prime Minister Stephen Harper, then the U.S. where he'll meet U.S. President Barack Obama.
Trade will dominate talks there as Abbott attempts to attract foreign investment with the mantra that Australia is "once again open for business."
Abbott has acknowledged his government faces a "very, very big job" at home convincing voters that the measures announced in the budget will eventually pay off.
The upcoming series of high-profile meetings is Abbott's opportunity to redefine early perceptions of his premiership, and deflect the conversation away from a choice of unflattering hashtags.
For more information go to http://www.cnn.com