Kevin Durant, LeBron James lead 2013-14 All-NBA First Team; 5 players receive first ever All-NBA nod
Willie Grace | 6/4/2014, 8:46 p.m. | Updated on 6/4/2014, 8:46 p.m.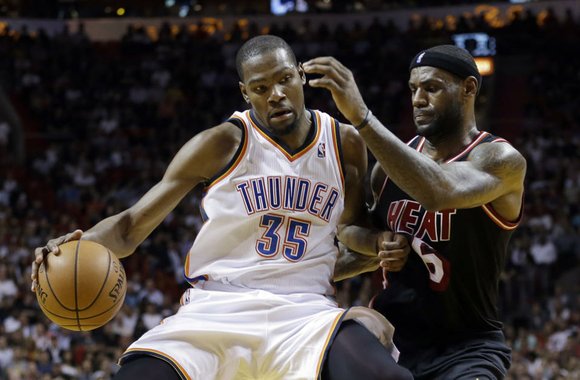 The NBA announced its 2013-14 All-NBA teams on Wednesday afternoon, with newly minted Most Valuable Player Kevin Durant of the Oklahoma City Thunder ranking as the lone unanimous selection to the First Team, as MVP runner-up and Miami Heat star LeBron James finished one vote shy of joining him in earning that distinction.
A panel of 125 broadcasters and sportswriters voted for the top three All-NBA teams, with two forwards, two guards and one center each getting five points for a first-team vote, three points for a second-team vote and one point for a third-team vote. Durant got a maximum possible 625 points after averaging career highs in points (32 points per game, good for his fourth scoring title) and assists (5.5 assists), joining Michael Jordan, Wilt Chamberlain and Elgin Baylor as just the fourth player ever to average 32-7-5 over the course of a full season. James appeared on 124 out of 125 ballots after finishing third in the league in scoring, 10th in assists and fourth in field-goal percentage, shooting a career-high 56.7 percent, making this the seventh straight season in which he's improved his accuracy. (You can check out the full voting results here, if you'd like.)
Here's how the balloting for all three All-NBA teams shook out:
First Team
• F: Durant (fifth first-team selection)
• F: James (eighth)
• C: Joakim Noah, Chicago Bulls (first)
• G: Chris Paul, Los Angeles Clippers (fourth)
• G: James Harden, Houston Rockets (first)
Second Team
• F: Blake Griffin, Clippers
• F: Kevin Love, Minnesota Timberwolves
• C: Dwight Howard, Rockets
• G: Stephen Curry, Golden State Warriors
• G: Tony Parker, San Antonio Spurs
Third Team
• F: Paul George, Indiana Pacers
• F: LaMarcus Aldridge. Portland Trail Blazers
• C: Al Jefferson, Charlotte Bobcats/Hornets
• G: Goran Dragic, Phoenix Suns
• G: Damian Lillard, Blazers
Paul received his sixth All-NBA nod, and his fourth first-team berth, after leading the NBA in assists (10.7) and steals (2.48) per game, while also averaging 19.1 points and 4.3 rebounds, and finishing sixth in the NBA in Player Efficiency Rating. First-team recognition is the second nicest thing he's received of late.
This marks the first ever All-NBA selection for Noah, who was named the league's 2013-14 Defensive Player of the Year and the leading vote-getter on the All-Defensive Team, and averaged a career-high 5.4 assists per game to become the first center in a decade (and just the sixth ever) to dish it at that level. It's the second straight All-NBA berth, and first first-team selection, for Harden, who finished fifth in the league in scoring at 25.4 points per game, averaged a career-best 6.1 assists per contest, and was one of only two players (alongside James) to put up 25-6-4 a night this season.
Among second- and third-teamers, Howard makes his eighth All-NBA appearance, Parker his fourth, Griffin his third, while it's the second time around for Love, George and Aldridge, and a career first for Curry, Jefferson, Dragic and Lillard.