What's at stake for the Miami Heat in the 2014 NBA Finals?
Willie Grace | 6/4/2014, 8:55 p.m. | Updated on 6/4/2014, 8:55 p.m.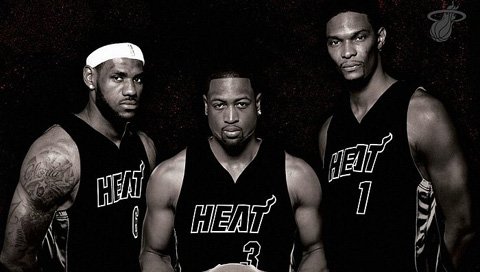 The NBA Finals mark the pinnacle of the NBA season, but also a special time in league history. Every June, teams and players match up to decide legacies, contemporary reputations, and more topics for argument among friends and acquaintances. How will various outcomes affect the San Antonio Spurs and Miami Heat this series? Read on to find out.
TRENDING UP
LeBron James: At this stage of his career, LeBron appears to accrue accomplishments with little difficulty, to the point where the great debates of his pre-championship seasons seem like a distant memory. It is now assumed that he will be the single most important figure in any series, the man the Heat cannot do without and the player every opponent plans around. He has achieved enough that the criticisms seem increasingly ridiculous, as if his detractors had to shift the goalposts of their arguments just to seem moderately unhinged rather than fully insane.
Nevertheless, it remains the case that James is not judged like any other player. He is compared to historically incredible talents, not his contemporaries, and thus often falls victim to the perfections of memory, in which players never missed big shots and outcomes never occurred for reasons beyond their immediate control. It's reasonable to think, then, that LeBron wouldn't just get a pass for a Heat loss, despite their underdog status vs. San Antonio. A Miami failure will always be his, too, because he is good enough that people expect amazing feats every time he takes the court.
Yet it's likely that LeBron would receive more attention for a third straight title than a loss, because that accomplishment is rare enough to inspire genuine awe and a more serious acceptance of his place in NBA history. To win this year, with a supporting cast that looks less powerful every season and against a Spurs team that looks well positioned for a title, would be the top achievement of the bunch. If the only argument against someone is that he's not one of the two or three best players in the history of the sport, then he's reached a new level of significance.
Chris Bosh: When the Big Three formed in 2010, Bosh was clearly the least dominant member of the trio. He seemed to know it, too, which earned him early mockery but has generally served him well. That self-knowledge has allowed Bosh to make a smooth transition to supercharged role player, earning him attention as a winning player even as he no longer carries the air of star. Bosh seems perfectly content with that state of affairs.
However, with the ability to become a free agent this summer, Bosh could use a boost to ensure he could command near-max money on the open market. It's unlikely he'll ever put up Toronto numbers again, but a strong performance vs. San Antonio could solidify his status as a player any team would be lucky to have at any price, not just a strong secondary scorer.