Decor Score: Avoid Cliches 'Like the Plague?' Not Always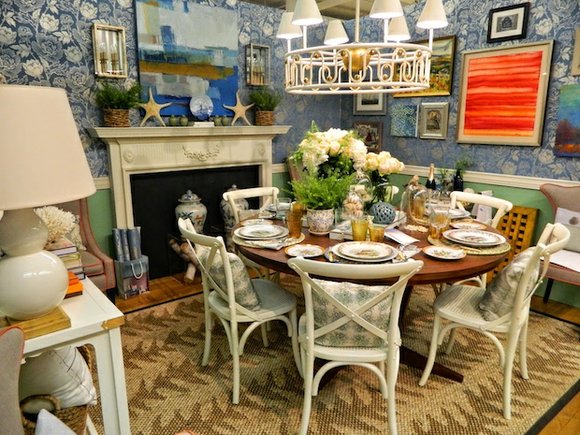 BY ROSE BENNETT GILBERT
Q: We are doing over our beach place and trying to avoid the usual cliches: the blue and white color scheme, starfish, wicker, etc. The trouble is, we can't think of another style that really works for the beach. What do you suggest?
A: You've just discovered the joy of cliches. They've become cliches because they are the absolute truth of a thing -- the whole, distilled to its immutable essence.
Writers, the joke goes, try to avoid cliches "like the plague" exactly because they are hackneyed, lack individualism and contain no surprises.
That's true, too, for interior design ... except that there are times and places when cliches are the very best answer. In a beach house, for example. Sand, sun and water equals blue, white and beige -- the very essence of summer and all that vacationing implies.
I can't think why you'd want to ignore the very attractions that led you to buy a house at the beach in the first place.
My suggestion: give in. Think like a locavore. You can celebrate your natural habitat without overindulging in cliches. Designer Tamara Matthews-Stephenson shows how in her fresh take on seaside design, photographed here. Also a mega-blogger (some 500,000 fans follow her at NestNestNest.blogspot.com) and vice president of the International Furnishings and Design Association New York, Matthews-Stephenson really lives her subject -- her family spends their summers in the lovely, legendary Hamptons on the tip of Long Island.
However, the room we show here is not for real. In fact, it's not a room at all. Matthews-Stephenson was one of 60 interior designers who created 10-by-l2-foot themed room settings this spring to raise funds for Housing Works' l0th annual Design on a Dime project.
Designers donate their time and talents; manufacturers donate products that are sold off during the three-day event, with proceeds going to homeless and low-income New Yorkers living with/affected by aids. So soon after this photo was taken, Matthews-Stephenson's seaside retreat eventually evaporated piece by piece. But her ideas remain for you to borrow.
For example, the overall floral wallpaper (from Farrow & Ball). It's blue and white, yes, but hardly what you'd expect in a beach house. And the seriously impressive art collection, which even includes a sunset! Plus, the handsomely laid out dining table -- no plastic here (it's all Lenox).
Also note Matthews-Stephenson's inspired solution for decorating an out-of-season fireplace with matching Chinese porcelains, a traditional touch used untraditionally.
Q: What color should I paint the ceiling in my bathroom? The walls are ceramic tile right up to the ceiling moulding (which is white). Is a white ceiling the only way to go?
A: In a word, no. White became the norm for ceilings, because it seems to lift the space and make it feel larger. That's smart for most rooms, but not so good in a bath. There, the emphasis is on intimacy. You want to feel embraced by the space, not cold and lost in it.
Paint your ceiling a warm, rich color you love -- a deep pink or dark rose, for example -- and it will reward you by reflection. The you whom you see in the mirror will always look in the pink!
Rose Bennett Gilbert is the co-author of "Manhattan Style" and six other books on interior design. To find out more about Rose Bennett Gilbert and read features by Creators Syndicate writers and cartoonists, visit the Creators Syndicate website at www.creators.com.