Heat stars reportedly mulling new contracts to add Carmelo Anthony, create Big 4
Willie Grace | 6/12/2014, 8:14 a.m. | Updated on 6/12/2014, 8:14 a.m.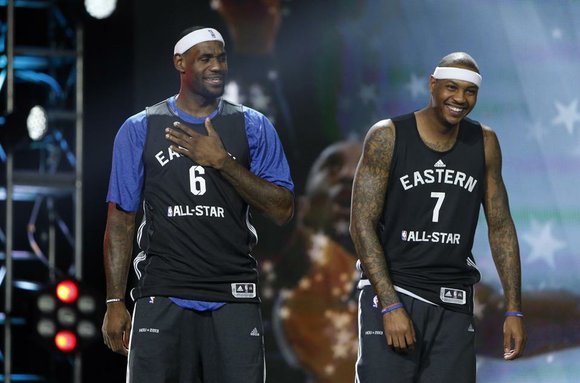 When the Miami Heat signed free agent stars LeBron James and Chris Bosh to join Dwyane Wade in the summer of 2010, it registered as an immense achievement by Pat Riley and his front office and the source of much consternation for basketball fans intent on upholding a certain ideal of competitive balance. If new reports are to be believed, then the Heat have another superstar team-up prepared for this upcoming offseason. Somehow, it's arguably even more daring and creative than the last one.
According to a new report from Brian Windhorst and Marc Stein of ESPN.com, the Heat are currently exploring options that would allow the franchise to add current New York Knicks star Carmelo Anthony to their preexisting Big Three of James, Bosh, and Wade:
The mere concept would require the star trio of LeBron James, Dwyane Wade and Chris Bosh to all opt out of their current contracts by the end of the month and likely take further salary reductions in new deals that start next season to give Miami the ability to offer Anthony a representative first-year salary. The Heat also are prevented from making any formal contact with Anthony until July 1 and can do so then only if he opts out of the final year of his current contract. Anthony has until June 23 to notify the Knicks of his intentions, according to sources.
But the success of the Heat's 2010 free-agent bonanza has established them as the NBA's undisputed destination franchise, with owner Micky Arison empowering big-thinking team president Pat Riley to attempt to pull off another coup in the market despite new collective bargaining agreement rules aimed at preventing it. [...]
James' off-court business is booming, thanks to a string of investments paying off massively and the prospect of new opportunities in endorsements and entertainment projects promising to expand his wealth significantly in coming years. [...]
With cooperation from their stars and role players Udonis Haslem and Chris Andersen, who also possess player options for next season, the Heat could open up in excess of $50 million in cap space this summer and have the most financial flexibility in the league. The only Heat player locked into place for next season is Norris Cole at a salary of $2 million, though Riley will have to contend with a handful of cap holds for pending free agents as well as their upcoming first-round pick in the draft later this month (No. 26 overall).
It's necessary to note that this report refers to an early planning stage and not a set of imminent decisions by all involved parties. For one thing, the biggest barrier is likely out of the Heat's direct control. If Anthony chooses not to opt out of his salary, he stands to make more than $23.3 million in the last season of his current contract before becoming an unrestricted free agent next summer. If he opts out and re-ups with the Knicks with a new max deal, he would make even more money. Because free agents can earn more money by re-signing with their current teams, signing with the Heat would require Melo to accept a salary at a lower max level even if these plans didn't require him to forgo a max salary entirely. Plus, without the global bargaining power of LeBron, Bosh, and Wade may decide that they won't have such an easy time recouping their money via endorsements and other business deals. Essentially, all four stars (to say nothing of various role players) would have to decide a championship is worth more than ludicrous amounts of money — possibly as much as eight figures in salary per season for each player — left on the table.