Despite disappointing Finals loss, Heat may be LeBron's best option next year
Willie Grace | 6/16/2014, 5:33 p.m. | Updated on 6/16/2014, 5:33 p.m.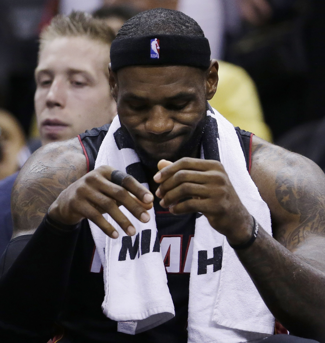 A stoic LeBron James walked briskly with his jersey untucked as he led the Miami Heat to the locker room after losing in the NBA Finals on Sunday night.
As soon as the San Antonio Spurs claimed their fifth title, all the talk about where James will play next season heated up.
Heat fans have just reason to be nervous. A source close to James, however, offered a response that might ease the concern.
"Where is he going to go that is as good or better than Miami?" the source told to Yahoo Sports. "The San Antonio Spurs? The Chicago Bulls? The Los Angeles Clippers? Where is he [realistically] going to go?"
James can become a free agent this summer by opting out of the final two years of a contract that pays $20.5 million next season and $22.1 million in 2015-16. It's safe to assume that at the very least James will explore his options.
James' camp says that a free-agency decision hasn't been made and there isn't yet a plan going forward. One thing that is certain is that this time around there won't be "The Decision," the much-ridiculed prime-time TV show in 2010 in which James announced he was joining the Heat.
James said after the Heat's season-ending 104-87 loss in Game 5 of the Finals that he plays for his teammates, but it's safe to assume he will make the decision that is best for him.
"You guys [the media] are trying to find answers," James said. "I'm not going to give you one. I'm just not going to give it to you. When I get to that point, I'll deal with it."
When James gets to that point, where could he actually go this summer? The options simply aren't that promising.
• His home state Cleveland Cavaliers? The Cavs haven't made the playoffs since he left and are about to hire their third coach of the post-James era. The ugly aftermath of James' departure likely can't be forgiven.
[Slideshow: See pictures from the Spurs' championship celebration and victory over the Heat]
• The Bulls could have the available money, and they have Derrick Rose and arguably the league's best defender in Joakim Noah. Chicago would have to amnesty forward Carlos Boozer and likely trade forward Taj Gibson to get the needed salary cap space. But can you really see James with an Eastern Conference rival that couldn't beat the Heat even when Rose was healthy?
• The big-market Los Angeles Lakers and New York Knicks, neither of whom made the playoffs, won't have the necessary salary cap space until 2015.
• The Houston Rockets have the money, but it's tough to say if James would be a good fit with center Dwight Howard.
• The Phoenix Suns will have money, but they didn't even make the playoffs this season.
• Dirk Nowitzki and the aging Dallas Mavericks? That ship has likely sailed.
•The Los Angeles Clippers? Well, a source said James and his wife, Savannah, love Los Angeles. LeBron James also is close with Clippers point guard Chris Paul and he admires coach Doc Rivers. But the Clippers already have at minimum $66 million in committed salary next season, which leaves no room for James' max salary.
So once again, the options are limited.
"I will deal with my summer when I get to that point," James said. "Me and my team will sit down and deal with it. I love Miami. My family loves it. But obviously right now that's not even what I'm thinking about."
For more information go to http://sports.yahoo.com