Springboard South, The Next Big Music Festival of the Nation in Houston
Keandra "Ke Ke" Scott Tatum | 6/19/2014, 10:05 a.m. | Updated on 6/19/2014, 10:06 a.m.

Are you an artist or an artist representative seeking music business education and a platform to connect you to the industry's biggest names? Houston, we have the answers! The 3rd annual Springboard South is projected to be the ultimate music festival designed to focus on accelerating independent artist to incredible endeavors unknown! The festival & conference will go on for 4 days showcasing over 150 artists, over 200 shows on 5 stages from Thursday, June 19 - Sunday, June 22 at Houston's George R. Brown convention center, Warehouse Live and other area venues (TBA).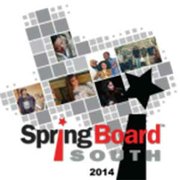 What to expect?
career-building opportunities
mentoring
"The Band Bootcamp" which will provide education in the following areas:
Labels, Music Production, Management, Booking Agents, Public Relations, Promotions, Music Education, Licensing & Distribution
This year Springboard South plans to change the game & take things to the next level for up and coming artists by adding "The Band Mall", a trade show geared to connect artists to key industry players such as public relations, managers, music education, production, licensing and distribution.
Is it for all ages? What if I'm a new artist? Of course! There will be a "Launch Stage", which offers a strategic development slot for kids, teens and college acts. There will be smaller stages set-up for newer, start-up acts at Warehouse Live and nearby venues (TBA). Houston's own KTSU on the proud campus of Texas South University is the official sponsor of the Jazz Stage. Jazz saxophonist, Dean James, who attended Berkeley College of Music and collaborated with Grammy award-winning artists, has been named Springboard South's first Mentor Artist.
30 out of 150 artists will be selected to perform as official Springboard South artists, which include performing on multiple stages and making a grand appearance on the conference's main stage at Houston's Warehouse Live. The lucky 30 artists will receive one-on-one mentoring from industry experts in areas including legal advice, social media, branding, media and promotions. In addition, the lucky 30 Springboard South artists will receive professional broadcast quality performance footage from a high-definition, 5 camera shoot, a 24-track recording of their performance, and the opportunity to present their music to a panel of music supervisors.
Some of the first break-through showcasing artists include:
Soul Fruit (Houston, 80,000 Units Sold), Dustin Prinz (Oklahoma, 4,242,599 YouTube Views), Celeste Kellogg (Virginia, 42.4k Twitter), Big Shane (Louisiana, 22.9k Twitter) and Hazy Ray (New Orleans, 180+ Annual Performances)
Springboard South plans to showcase artists from a wide spectrum of musical genres on different days.
June 20- R&B, Neo-Soul, R&B Dance
June 21- Country, Pop. Indie Rock, Rock, Latin, Hard Rock/Metal, EDM-DJs/Electronica
June 22- Jazz, Blues Gospel, Southern Rock and Roll, Singer/Songwriter
Although Springboard South has only been in existence for 3 years, they have paved major waves for a wide-range of artists, including three bands who landed major record deals and two artists who were featured on one of the nation's most impactful shows for independent artists, American Idol.
Last year, Houston's own trill-stars Slim Thug and Paul Wall, had a chance to pay-it-forward through artist mentoring at the 2nd Annual Springboard South festival and conference.