Best travel songs of all time
6/23/2014, 10:26 a.m. | Updated on 6/23/2014, 10:26 a.m.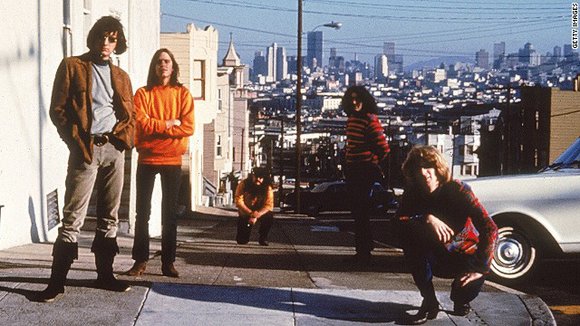 "Truckin'" (Grateful Dead, 1970)
Back when the San Francisco herbadours recorded their immortal ballad of the blacktop, "Truckin'" defined a state of mind far more than it did the actual act of riding in a truck.
Perhaps that's why the Grateful Dead's terminally relaxed supporters didn't bother caterwauling in our comments section about long strange trips and mellowing slow.
Most simply left a single word of wisdom: "Truckin'."
"Convoy (C.W. McCall, 1975)
It's hard to imagine now, but for a flicker in time, no one in the world was as hip as America's red-blooded and red-eyed long-haul truckers.
Fueled by the CB radio lingo of the day -- "That's a big 10-4," "Good buddy," "Breaker 1-9," "Put the hammer down," they're all here! -- C.W. McCall's ode to outrunning smokies and teaming up with 11 long-haired friends of Jesus in a chartreuse Microbus resonates to this day.
Deanna J. Dragonus wasn't the only reader to chastise us for neglecting traveling professionals, but she did it with the no-nonsense aplomb of a truck stop waitress when she wrote: "Apparently, CNN didn't bother to ask the people that travel for a living for input otherwise there would be song (sic) such as C.W. McCall's 'Convoy.'"
Reader Popeboof chimed in from down the counter: "Hell ya Convoy!!!!"
"I Can't Drive 55" (Sammy Hagar, 1984)
From Long Island to Los Angeles, howls of indignation echoed across the country when the U.S. government decreed a nationwide federal speed limit of 55 molasses-like miles per hour on the nation's interstates.*
No one howled quite like lead-footed California rocker and Ferrari owner Sammy Hagar.
His populist challenge to the authority of a paternalistic central government remains an all-time classic.
Reader Marisofhm summed up the feelings of many by dubbing our original story a "lame list" without the inclusion of the Red Rocker's high-octane hit.
*The U.S. government passed the National Maximum Speed Law in 1974, making 55 mph the top speed on all interstate roads. In 1995, federal speed limit controls were officially removed with the passage of the National Highway Designation Act, largely leaving the matter of speed limits up to individual states.
"Going Up the Country" (Canned Heat, 1968)
MoDef wanted to know: "What about the Canned Heat??????"
That wasn't the only call for this chooglin' blues-rock number that deploys a power flute, promises a trip that "might even leave the U.S.A." and memorably lit up the crowd at Woodstock in 1969.
That's a travel-song resume for the ages.
"Holiday Road" (Lindsay Buckingham, 1983)
Widespread support for the theme from National Lampoon's "Vacation" movies took us by surprise.
We're big Lindsay Buckingham fans, but we'd deemed this one a little too lightweight for our original list.
Along with a number of others, reader Eric passionately disagreed: "'Holiday Road' by Lindsey Buckingham is #1."
But pspdude summed up the Buckingham Bridgade's beef best: "The road anthem of all time, 'Holiday Road' by Lindsay Buckingham. CNN, what were you thinking to leave (this) out?"