Indian Awakenings
Willie Grace | 6/23/2014, 10:27 a.m. | Updated on 6/23/2014, 10:27 a.m.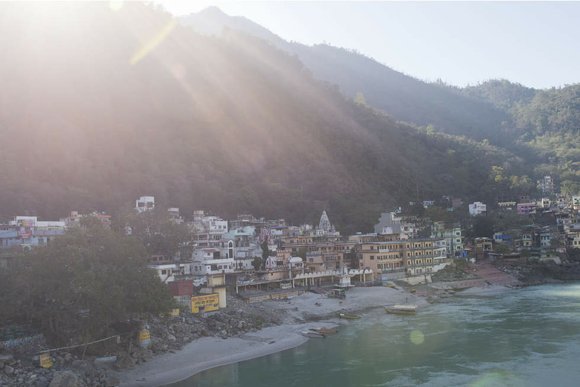 Shoes off and feet freezing, I fidget cross-legged in front of the first swami I've ever met.
He's draped in saffron robes, serene and still. His eyes are shut, his mind taking him to places I can't know. Vines climb the thatch wall of bamboo behind him.
Around me, as the courtyard fills, women weep. The swami's eyes open and are as gentle as his smile. I feel the warmth, but I don't understand the tears.
I'm in Rishikesh, a spiritual hot spot nestled in the foothills of the Indian Himalayas, where ashrams dot the landscape and the sacred river Ganges flows toward the plains. Hindus have long made pilgrimages to this holy place, where saints and sages are said to have meditated for thousands of years. But ever since the Beatles came here in 1968, Westerners have made it their spiritual Disneyland. They roam the streets, dotted with shops, seers and more yoga classes than any yogi can possibly take, looking for enlightenment.
I understand this hunger to find one's path. I've done plenty of searching in my years and wrestled with life more times than I can count.
I took off for Israel in my 20s to dig into roots I'd never explored. I struggled with the wounds of childhood, my parents' divorce when I was a toddler, a second divorce when I was a teen. I've lived in eight states and moved more than two dozen times. I've traveled a road rich with twists — and some potholes — on my journey to find a career that fit, face my father's sudden death and navigate a foible-filled search for Mr. Right.
But I arrive in Rishikesh feeling fully formed. At last, I'm settled, happy, perfectly comfortable with where I am. At 44, I've cleared obstacles and found serenity, which includes a profession, home, life and — to my surprise, I think — a man I adore.
I'm now on a far less personal mission: to write about this place and what it means to those who flock here. I plan to push myself out of my comfort zone, get my yoga on, try my hand at meditation. I'll meet with gurus, hear about past lives, dabble in some ancient therapies.
My overriding goal, though, is to study those around me, the people seeking answers I suspect I've already found.
Granted, just days before I left for India, I received a sign that this trip might have deeper meaning.
My older brother dug up a document that caught my breath. It was a seven-page typed letter our father wrote in the early 1960s, proposing a trip to India. He hoped to study and walk with one of Gandhi's disciples, a force behind a social revolution to give land to the landless. He imagined writing a book and bringing these teachings to America.
While the content of this letter was new to me, the character behind it was no surprise. At 22, when he wrote the proposal, my dad was becoming the man I admired. He dreamed big, with compassion that knew no bounds, and went on to have a legal career dedicated to social justice.