Tom Joyner Promotes Texas Southern, Earns Designation into the Ocean of Soul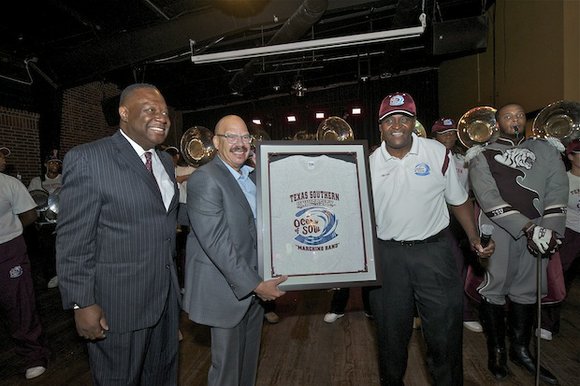 Tom Joyner became an honorary member of the famed Texas Southern University Ocean of Soul marching band June 20 during his "Party with a Purpose" fundraiser at Grooves of Houston. The 'Fly Jock' was in town promoting Texas Southern University as part of his Tom Joyner Foundation School of the Month program. In addition to his fund raising efforts at Grooves, Joyner, Sybil Wilkes and J. Anthony Brown – the cast of the "Tom Joyner Morning Show" – broadcast their nationally syndicated morning talk show live from The Breakfast Klub that morning. Former TSU band members, drum majors, majorettes, alumni and community members all came out and donated to the "Road to Canton" fundraiser at both events. The "Road to Canton" campaign will assist the TSU Ocean of Soul Marching band in traveling to Canton, Ohio for the Pro Football Hall of Fame enshrinement ceremonies for TSU Alumnus Michael Strahan. The "Ocean" was invited to participate in the TimkenSteel Grand Parade and other festivities surrounding the Pro Football Hall of Fame celebration.
You can help support the Ocean by donating to the "Road to Canton" campaign. Giving is easy online at https://tsu.thankyou4caring.org/oceanofsoul-roadtocanton or by check made out to Texas Southern University Foundation with "Road to Canton" in the memo line, mailed to Office of Development, Texas Southern University, 3100 Cleburne, Hannah Hall Ste. 206, Houston, TX 77004.