World Cup 5 Things: You'll need two screens today
Willie Grace | 6/23/2014, 3:26 p.m. | Updated on 6/23/2014, 3:26 p.m.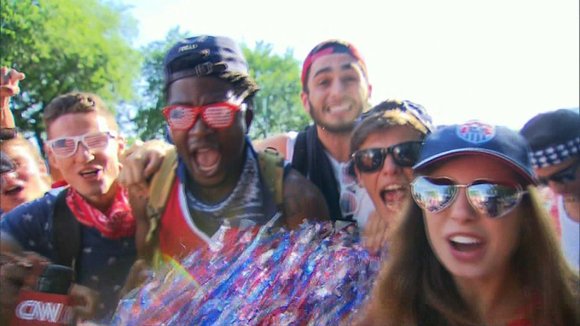 Let the math begin! With every team having played two matches, it's time to start computing every possible variable in which teams like the U.S. and Portugal can make it to the next round.
Oh, if only the Americans were able to hold off the Portugese attack for 27 more seconds yesterday. Portugal could have hopped a flight with Spain back to the Iberian Peninsula.
But alas, it wasn't to be.
While we lament and scribble scenarios into our spreadsheets, here are five things to ruminate over today about this spectacular but surprising World Cup.
You're going to need two screens this week
That's because the last games of the group stages are played concurrently -- meaning, two games at the same time.
It all began in 1982 when Algeria was on the verge of making the knockout rounds.
Also in their group that year was West Germany and Austria. When they played, the Germans scored. The 1-0 result good enough to send both the Germans and the Austrians through. So, the two teams basically stopped competing. Had Germany scored two more goals (or lost), Algeria would have advanced. (It has to do with goal difference)
Both Austria and Germany said, "No, not us. We didn't cheat." But get this, there were no shots in the final 80 minutes!
So, FIFA wised up. And the next World Cup saw the first simultaneous matches for the last days of group play.
On Thursday, the U.S. and Germany already know a 0-0 draw would get both through, so you don't think...? Nah, winning the group is too important.
There's a lot at stake today (read: pride)
Let's go through today's matches one by one -
Netherlands v Chile:
If you're going to fixate on one match today, this is it. Both teams are phenomenal. Both are already going through. The only question is, which will top Group B? Bragging rights are a good enough reason to put up a great fight.
Brazil v. Cameroon:
Cameroon is playing to not finish 32nd in a 32-team field. The Indomitable Lions? They've been more like The Skittish Kitties. Brazil hasn't exactly set the field on fire either with its performance so far. Still, there's no doubt this matchup is one they'll handily win.
Spain v Australia:
Oh how the mighty have fallen. Defending champs Spain have already been knocked out of the contest. So this encounter is basically a test to see if it can salvage some of its pride.
Croatia v. Mexico:
Croatia needs to score to advance to the next round. Not gonna be easy with Mexican goalie Guillermo Ochoa in the way. He's shut out Brazil and Cameroon, and inspired memes like the one where, Ochoa as Gandalf, stands before the goal proclaiming, "You shall not pass."
That putrid racism in soccer? Yup, still there
FIFA is not happy after pictures surfaced of two men who showed up to the Germany v. Ghana game in blackface and "Ghana" written on their shirts.