Iraq government claims gains in anti-militant fight
Willie Grace | 6/24/2014, 6:05 p.m. | Updated on 6/24/2014, 6:05 p.m.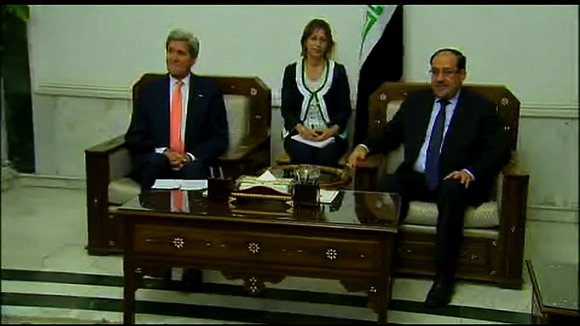 Iraqi officials insisted Tuesday they were holding on to a key oil refinery while making gains elsewhere against militant fighters.
The deputy prime minister for energy affairs, Hussain al-Shahristani, denied media reports that militants had taken the Baiji oil refinery, saying that security forces are still fighting militants at the site.
The state-run Iraqiya news agency also claimed that security forces still controlled the refinery.
Iraqi special forces killed the militant who led the attacks against the refinery, who goes by the name of Abu Qutada, Iraqiya said. Airstrikes also killed 19 militants, the news agency reported.
The reports run contrary to earlier statements to CNN by Iraqi security sources who said militant fighters believed to be from the Islamic State in Iraq and Syria, or ISIS, had seized the refinery.
The Baiji refinery, in northern Salaheddin province, is a crucial resource because it refines much of the fuel needed for domestic consumption. Long lines have already formed at many gas stations across the country.
U.S. officials say they think ISIS now has as many as 10,000 fighters in Iraq, including fighters who have crossed over from Syria, those who have broken out of prisons, and loyalists who have joined the fight as the group has advanced, several U.S. officials have told CNN in recent days.
The group is functioning as an "increasingly capable military force," one official said. But questions remain about whether the group may become stretched too thin as it tries to hold on to its growing territory.
Iraq's military spokesman, Maj. Gen. Qassim Atta, said that security forces had regained control of two key border crossings after briefly losing them to the militants.
In a briefing in Baghdad aired on state TV, Atta said Iraqi forces, aided by Sunni tribes, retook al-Walid, which connects Iraq with Syria -- as well as the Trebil border crossing between Iraq and Jordan.
He also said that all towns between Samarra and Baghdad, 80 miles (129 kilometers) to the south, are in the hands of Iraqi security forces.
The al-Qaim border crossing, which is some 217 miles (350 kilometers) to the north of al-Walid, remains under the control of militants.
On Monday, a spokesman for Iraq's counterterrorism service told CNN that two senior ISIS figures -- an Algerian militant named Abu Omar al-Baghdadi and Abu Hafsa, the self-styled governor of Tikrit -- were killed late Monday in airstrikes in Tikrit, the hometown of former Iraqi leader Saddam Hussein.
The spokesman, Sabah Al-Nouman, offered no evidence of the deaths.
CNN cannot independently confirm any of the claims.
Meanwhile, in Kirkuk, gunmen killed the head of the city council. Munir Kafili died when they opened fire on his car as he drove.
Kerry arrives in Irbil
U.S. Secretary of State John Kerry visited Irbil on Tuesday to discuss with Iraqi Kurdish President Massoud Barzani and other officials how Kurds can help the central government tackle security and political challenges.
As the two men sat down to meet, Barzani said, "We are facing a new reality and a new Iraq,"