Meet the Marxist behind Seattle's wage hike
Willie Grace | 6/24/2014, 5:37 p.m. | Updated on 6/24/2014, 5:37 p.m.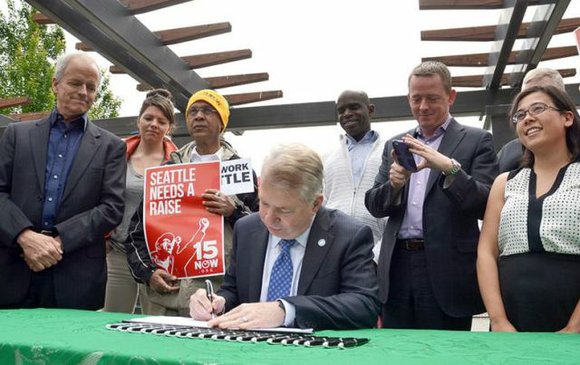 Kshama Sawant has gone from Occupy Wall Street to occupying Seattle City Council.
Now, fresh off Seattle's historic passage of a $15 minimum wage, the self-described Marxist is ready to make it a national fight.
Sawant -- whose full name is pronounced "Shah-mah Sah-want" -- emigrated to the U.S. from India and earned a PhD in economics from North Carolina State University before taking a teaching position at Seattle Central Community College. She says she was radicalized politically by the gaping inequality she observed upon arriving in the world's richest country.
The veteran activist, who supported the Occupy movement that cropped up in the wake of the Great Recession and bank bailout, ran for city council last year under the banner of Socialist Alternative, an organization that calls for "international struggle" against global capitalism.
The "Socialist" label is practically an epithet in many parts of the U.S., but Sawant says it "wasn't really any kind of barrier" in her meetings with voters.
"Everybody said, 'Don't call yourself a Socialist,' but every speech I gave, I started with saying that I'm a member of Socialist Alternative," she said in a recent interview at her City Hall office. "People are hungry for an alternative, but that alternative isn't there."
The cornerstone of Sawant's campaign was her call for a $15 minimum wage, an issue the local press credited her with placing on the city's agenda.
Seattle's city council unanimously passed the wage increase earlier this month, and it will be phased in over several years based on a scale that considers the size of and benefits offered by an employer. It will apply first to many large businesses in 2017 and then to all businesses by 2021.
Washington already has the nation's highest state-level minimum wage, at $9.32, a rate that also applied to Seattle. The current federal minimum stands at $7.25. Some Democrats in Congress have been pushing for a gradual increase to $10.10, but so far without success.
While Seattle's $15 minimum is a first for a major U.S. city, it's not as if workers will be living lavishly. Working full-time, year-round for $15 an hour with two weeks off yields an annual pre-tax income of around $30,000.
"The cost of everything is going to go up," said Selena Bevers, a convenience store clerk in downtown Seattle. "You're still going to be where you are now."
Annette Kousin, who works at a nearby coffee shop, worries about how the bill will impact food stamps and other federal benefits.
"I have a ton of student loans I need to pay off," she said. "I'm having trouble just surviving."
Local businesses, meanwhile, have complained that the legislation will hurt their bottom lines and harm the local economy.
Supporters counter that the economy could actually see a boost as workers gain more disposable income to spend.
"It has the potential to really help the economy," said Olivia Anderson, a clerk at a Seattle ice cream shop. "I know it will affect small businesses, but big corporations have the money to do this right now."