Rugby comes out of the shadows in football obsessed Brazil
Willie Grace | 6/24/2014, 6:12 p.m. | Updated on 6/24/2014, 6:13 p.m.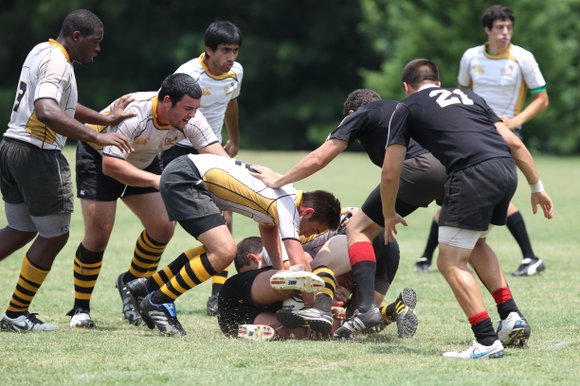 As darkness falls on Copacobana, the floodlights flick on and locals gather for a game of kick-about late into the night. The bars, restaurants, sidewalks and beaches of Rio de Janeiro all seem to pulse to the beat of football.
It's a Brazilian love affair that dates back to 1894 when Charles William Miller -- a Brazilian of English-Scottish decent -- returned from studying in England to help establish the Sao Paulo Football Club bringing with him some equipment, a rule-book and two balls . One was round and one was oval shaped.
If Miller's arrival marked the beginning of both sports in Braz and football was quickly adopted and thrived, rugby remained in the shadows of its closest competitor, a sport largely played by expatriates from rugby-playing nations.
But times are changin' in Brazil. New opportunities are bringing new life to an old game and over the past five years 10,000 Brazilian players have taken up the sport.
Rugby sevens' inclusion to the 2016 Rio Olympic Games and a guarantee of automatic qualification for the home nation has encouraged new clubs to spring up in diverse and remote regions across the country with players seeking to represent their country.
Four Rio brothers, Max, Marcos, Maicon and Maxwilliam Paixao who live in the Cantagalo favela, one of the city's largest slums, perched on the hillside above Ipanema Beach, are part of this rugby revolution.
All four siblings play to a high standard, but Marcos has already represented Brazil Internationally and shows huge promise.
They reside in a toppling multi-story space which is held together with brick, plastic and corrugated iron in the heart of Cantagalo.
"Because the family kept on growing we converted it," Marcos told CNN.
"On the ground floor is my mother, my dad. The second my sister and her children...above that my sister with her daughter...above is me, my brother, cousin and his baby. He's on one side, I'm on the other with that little window."
On the top floor, stuck to the left panel of the little window is a sticker saying "I LOVE RUGBY" -- the only visible evidence that one of Brazil's brightest rugby talents lives here.
Like many sports that make inroads in Brazil, the brothers' first encounter with rugby came on the beach.
"A friend of mine used play on the beach" explains Marcos "Out of curiosity I asked him what rugby was and he said: 'C'mon I'll show you.'
"At first I didn't want to because it seemed like a violent sport. The following week I went to watch and they asked me to join them, so I did. I've stayed ever since."
The brothers are being helped to achieve their potential by Rio Rugby, one of several rugby initiatives that have been designed to grow the game in Brazil.
"Rugby welcomed us like a family and we accepted it like a family. It showed us things, like how to respect others," added Marcos.
Just as importantly rugby has helped provide a respite from the toughness of favela life.