Remembering the King of Style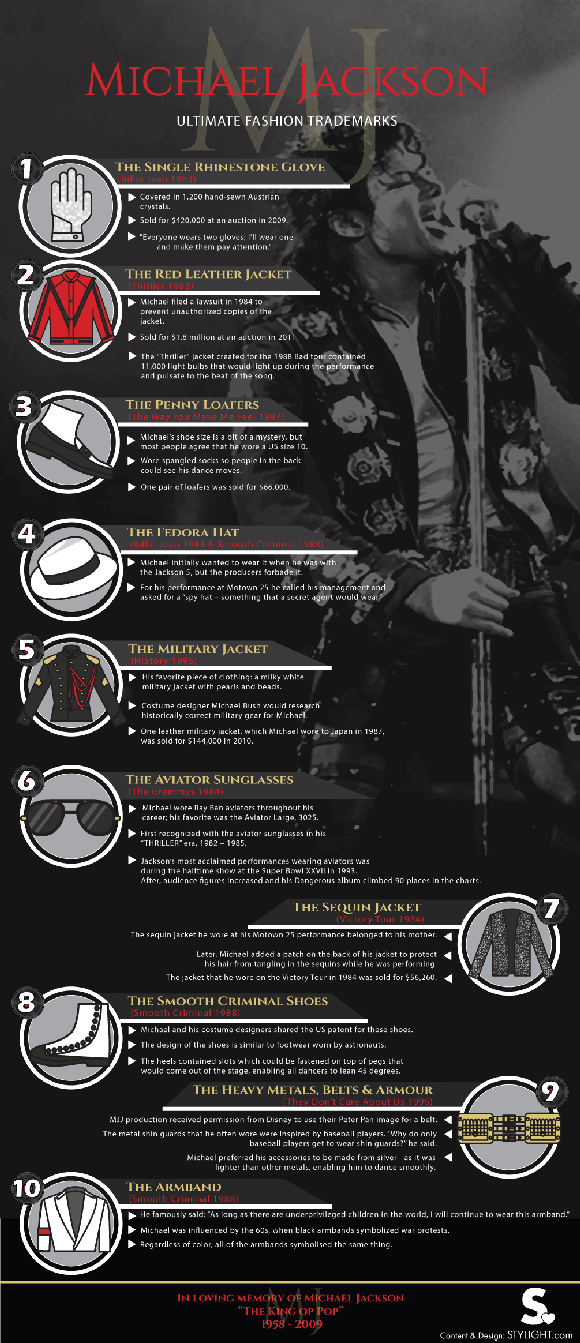 Michael Jackson: the King of Pop, but for his fans and many critics alike, he was also the King of Style. Michael's very particular sense of style was clear right from the start of his career, setting him apart from his peers and cementing him as a fashion leader not a follower. Throughout his career he popularized many fashion items, making them synonymous with his look and style. June 25th will mark the fifth anniversary of Jackson's death and as a tribute to his iconic style we have compiled his 10 Ultimate Fashion Trademarks, and included some fun, interesting facts about each one. So don your trilby hat and penny loafers and "shamone" into Michael Jackson's wardrobe!
Do you Remember the Time
Slave to the Rhythm
With hologram performances becoming more and more popular we can surely hope to see more of the King of Pop once again. Between that, his incredible back catalogue, and newly released material, the spirit of MJ lives on. Fans, young and old, continue to celebrate his talent and support his legacy, keeping him firmly on the pop throne as the King, forever.
So, in the spirit of the King of Pop, Shake Your Body (Down to the Ground) and Don't Stop 'Til You Get Enough with this ultimate Michael Jackson playlist!
For more information, visit http://www.stylight.com/Love/Michael-Jackson-King-Of-Style/#.U6sQSijhruc
Which Michael Jackson fashion trademark is your favorite? Tweet us using the hashtag #KingofStyle