Daily Editorials: Get The Border Under Control to Stop Endangering Children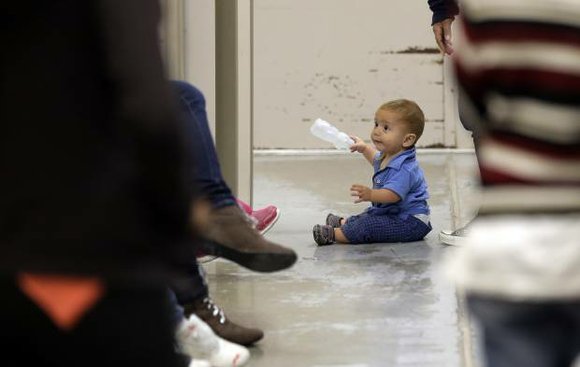 FROM THE COLORADO SPRINGS GAZZETTE
Failure to secure the southern border, combined with careless messaging by President Barack Obama, has made the United States an attractive nuisance. The fiasco at the southern border is far more than a political dilemma and an inconvenience for Americans. It is a humanitarian crisis of our making.
The Associated Press reported that authorities apprehended 47,017 unaccompanied children on the border from October through May, up 92 percent from the same period a year ago. Other news reports say the surge has overwhelmed federal border facilities that lack adequate food, beds and sanitary facilities. While our country saw about 6,000 border crossings of unattended children in 2011, some federal authorities expect up to 100,000 this year.
Children are escaping treacherous conditions in Latin America after Obama announced plans two years ago to stop deportations of child immigrants who meet certain criteria. Any nuance in the president's announcement has been lost on desperate populations that speak a different language. Word has spread throughout Mexico and Central America that refugee children will be welcomed with open arms by the United States.
Kids arrive at the border, some as young as 2, with notes stuffed in their pockets or pinned to their shirts. The notes contain phone numbers of friends or relatives in the United States who are expected to take them in.
Border facilities are overwhelmed, and charities scramble to take up the slack.
Nearly all the children tell of making long, dangerous treks across Mexico to escape escalating drug-gang violence, random crime and poverty.
Many children travel to the border by jumping a network of freight trains known as "El Tren de la Muerte" -- The Death Train. Teenagers and younger kids run and try to jump onto moving freight cars. Many can't pull themselves aboard and fall, with the weight of their bodies swinging them onto the tracks with tragic outcomes. Some survive with permanent, debilitating injuries.
"I see children who've lost limbs to the train and return home," said Erica Dahl-Bredine, El Salvador representative for Catholic Relief Services, in a conversation with The Gazette. "The couplings between the cars are notoriously dangerous. I see children who have lost an arm and a leg or both legs."
Smugglers are paid to get some of the children safely to the border, but it doesn't always go well.
"I talk to girls who have been gang-raped by the smugglers," Dahl-Bredine said.
This is a crisis largely of our creation. It results from Democrats and Republicans treating immigration like a political football and neglecting to secure the border. It results from showing desperate Latin Americans that our country won't enforce its immigration laws.
The United States is a compassionate country that should hesitate to throw young children back in harm's way after they've sought refuge here. But we can't handle this massive and sudden influx. It will further stress social services, health care facilities and schools that already operate beyond their anticipated capacities.
Obama needs to get this under control, letting Latin Americans know in no uncertain terms that the United States can not and will not host unattended children who illegally cross the border. We cannot continue putting these youths in danger, and we can't afford to resolve their collective plight.
Congress and the president need to stop messing around. Seal the border once and for all and reform our irrational immigration system. Stop treating our Latin American neighbors as convenient political pawns. The lives of helpless children rest in the balance.
For more information, visit www.creators.com.