Sweet Tips for a Fabulous 4th of July
Host a patriotic bash with dazzling desserts
6/26/2014, 11 a.m. | Updated on 6/26/2014, 11 a.m.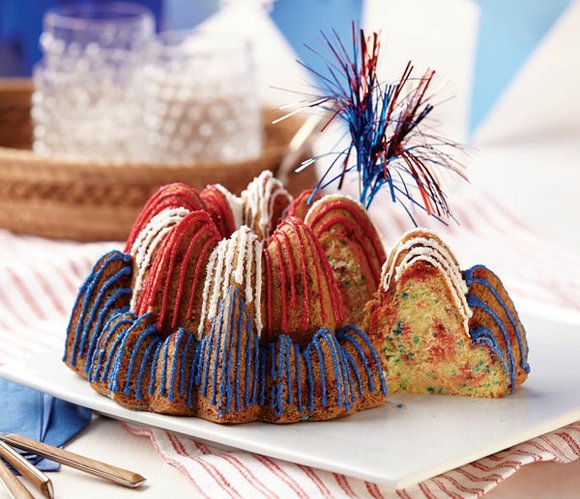 It's easy to throw a 4th of July party that looks like you worked on it for weeks, even if you just started the planning process.
Celebrate the holiday in style by serving classic entrees everyone loves and focusing your attention on delicious, easy-to-make desserts. With the right recipes, your sweets will be as captivating as the colorful spectacle of fireworks above.
• Hot Cinnamon Fireworks Cake: Crushed cinnamon drops add color and a slight hot cinnamon flavor to the inside of the cake, while simple melted candy details make the cake look like a firework bursting.
Your party planning confidence will skyrocket with these delicious dessert ideas from the Wilton test kitchen. For more fun and festive party ideas, visit www.wilton.com.
Hot Cinnamon Fireworks Cake
Yield: 12 servings
2 3/4 cups all-purpose flour
2 teaspoons baking powder
1/2 teaspoon salt
2 cups (4 sticks) butter, softened
2 cups granulated sugar
6 eggs
1 1/2 teaspoon vanilla extract
1 bottle (6 ounces) Cinnamon Drops, crushed
1 box (1.5 ounces) Blue Colorburst Batter Bits
1 cup sifted confectioners' sugar
3 to 4 tablespoons milk
Red, white and Royal Blue Candy Melts candy, melted
Red, white and blue colored sugars
Preheat oven to 350°F. Spray Dimensions Cascade Pan with vegetable pan spray.
In large bowl, combine flour, baking powder and salt. In second large bowl, beat butter and sugar until light and fluffy. Add eggs one at a time, scraping bottom and sides of bowl often. Add vanilla; beat until well combined. Add flour mixture and beat at low speed until just combined. Fold in Cinnamon Drops and blue Batter Bits. Pour into prepared pan; smooth out top. Bake 60 to 65 minutes or until toothpick inserted in center comes out clean. Cool in pan 10 minutes on cooling grid. Remove from pan and cool completely. In large bowl, whisk together confectioners' sugar and milk. Drizzle melted candy onto cake to look like fireworks. Sprinkle sugars onto melted candy.