Texas Youth Travel to Atlanta For Conference With Keynote Speaker Dr. Maya Angelou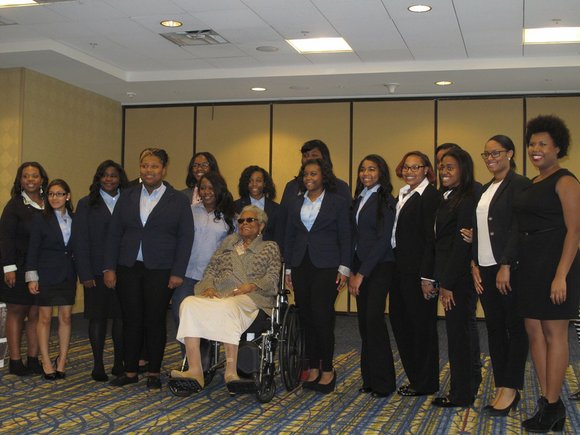 The Young Eventions Group's (YEG) Women2Women Conference was held on Saturday, March 1, 2014 at the Marriot Marquis in Atlanta. Sonjia Waller Young, founder of YEG, created the conference to serve as a platform to bring generations of women together in order to inspire and empower one another. This year's theme, Intergenerational Life Lessons & Legacies, honored Ingrid Saunders Jones –Chair for the National Council of Negro Women with the Phenomenal Woman Award. Dr. Maya Angelou served as the conference's keynote speaker.
Friends for over 25 years, Young accredits Dr. Angelou with inspiring her to host a conference that would allow for generations of women to come together and pass on the legacy of life lessons learned. "Maya is a good friend of mine and when I told her that God put this on my heart, she immediately stated that I had to do it and that she would be there to support me. I began calling every friend I knew that would be there for me. And with little to no time to put this together, I am happy and excited", stated Young.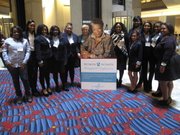 The conference was a huge success, bringing over 600 women of all ages together to share, inspire, and empower. Deavra Daughtry, friend of Sonjia Young and founder of the Texas Women's Empowerment Foundation (TWEF) – a foundation geared towards mentorship - added to the success of the conference by sponsoring a group of young ladies from Houston to attend. "The girls were chosen based on their school performance, report card grades. Their chaperones are mentors that have graduated from one of the foundation's programs. I am proud of them and they were very excited about Dr. Maya Angelo being the keynote speaker" stated Daughtry.

In addition, some attendees including Deavra Daughtry, were chosen to be interviewed for a PBS documentary about Dr. Maya Angelou. The film is to be aired on PBS' American Masters in 2015 and will also feature interviews from Oprah Winfrey, President Bill Clinton and many other artists and political figures.

About TWEF
Texas Women's Empowerment Foundation (TWEF), a non-profit organization founded by Dr. Deavra Daughtry in 2002, is geared towards helping families, from all walks of life to help reach their fullest potential in the areas of business, education,finances, and socio-economic status. The focus of programming is therefore on the whole family; men,women, and youth. The Foundation works to achieve these goals by sponsoring successful programs aimed at helping families achieve and maintain a sense of empowerment that manifests itself through life performance.
Read more here TWEF.org
About YEG
Young Eventions Group, Inc. (YEG) is a non-profit organization established to help women of all ages and their families deal with issues that impact them daily and to expose them to resources and information that will help improve and transform their lives. Established in 2013, YEG promotes mentoring and supports initiatives dedicated to creating and nurturing those relationships.