Champion Sound Beat Battle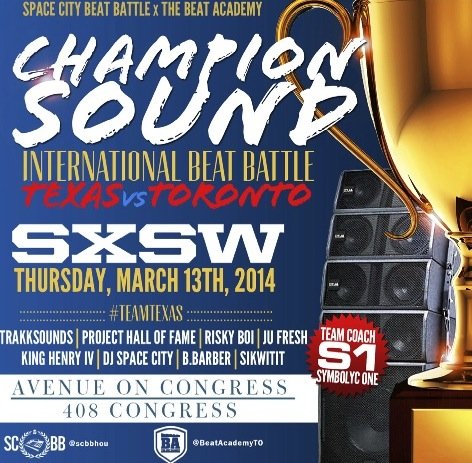 The first thing you notice when walking inside iMix Studios, a warehouse like outfit on the outskirts of the Galleria is the gold plaques on the wall. Gold, like any other jewel in life is a sign of success and on one particular Saturday afternoon, a group of producers from across the state are echoing the sentiments.
"I want to make sure everybody's in the same mind frame," the slight rasp of DFW producer Symbolic "S1" One fill the room. "This isn't a showcase, it's a beat battle."
If S1 can command a room with a rather zen like approach, its because he's earned it. The Dallas producer broke big in 2010 when he produced Kanye West's "POWER" from My Beautiful Dark Twisted Fantasy which led to scoring works on 2011's Watch The Throne, Beyoncé's 4 and Kanye West's 2013 Yeezus album. Here, his credentials should aid a group of talented Texas producers who sit around him like a summer camp campfire tale, eager to jump in the studio.
A few weeks from now, this same collective, Trakksounds, Risky Boi, Code Redd, DJ Space City, & King Henry from Houston will join together with B.Barber, Ju Fresh, Sikwitit & Project Hall Of Fame from the Dallas/Fort Worth area for Champion Sound, an international beat battle between Team Texas and Team Canada, a squad of producers from Toronto coached by platinum producer Boi-1da at South By Southwest.
Many of Team Texas' members have gone through the rigors of the locally produced Space City Beat Battle, a bi-monthly affair that challenges producers from all over the country to topple one another. Here, there's camaraderie between each producer, even if it feels like they're in one very elaborate study session.
Toronto's sound is atmospheric, Texas' organic and at times church based right down to the organs. Both however are evolving in their own subtle ways.
S1's value as a coach is almost like a general manager plugging in the best producers in the best positions. To date, there has never been an international beat battle at SXSW, until now. "If we pre-note what we're already going up against then we have an advantage," he remarks. "Knowing that we know what we're doing, what we're good at … where we're placed at."
One by one they stand up, each honing in on their particular sound. Ju Fresh is a lover of 808 drums, B.Barber a fan of the blues and samples, Sickwitit a lover of everything before leading to Space City's wide-eyed sample chops & Trakksounds' soulful bounce.
"These beat battles are different bro," Sickwitit says. "I want to shock the hell out of people."
Climbing into one of the adjacent studio rooms he dictates the pace of how Team Texas should focus on the battle, readily making a mission statement for all the producers involved. "It's all about excitement. Whatever we play, it's all about shock value … how it makes the listener feel."