Kesha Rogers is First African American Woman in Texas US Senate Runoff
Burt Levine | 3/6/2014, 12:07 p.m. | Updated on 3/6/2014, 12:07 p.m.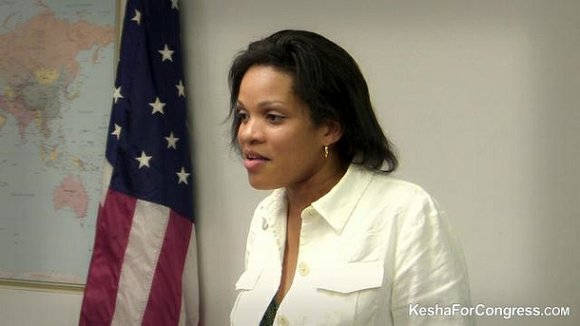 Kesha Rogers won a May 27 run-off berth for the Democratic Party nomination for US Senate this past Tuesday night. She hopes to become Texas' first African American woman nominated to the US Senate.
Rogers faces multi-millionaire venture capitalist Dr. David Alameel wanting to run this fall against Texas' Senior US Senator John Cornyn who beat back six of his Republican primary challengers Tuesday.
"I was born in Houston to a lower middle class family. My father was a minister and construction worker. My mother worked at Houston Independent School District," said Rogers who graduated from Texas State University in 2001 with a degree in Political Science and Speech Communications.
The former Chairman of the Harris County Democratic Party has said, "One of the things the Rogers at 37 years old is able to do is to engage young people. If she can turn out young people to vote for Democrats it is all the better."
He voiced the opinion that Rogers' policies are appealing with her support for space travel were NASA investment is important in the Houston area and her support for "investment in public works, separating commercial from investment banking and opposition to corporatism." In 2010 and in 2012 she was the Democratic Party nominee for Congress from the Sugar Land, Pearland to Clear Lake suburban Congressional District 22.
Early voting for the May 27, Texas Primary Run-off Elections begins Monday, May 19 and will last through to Friday, May 23.
Fort Worth State Senator Wendy Davis won 72 percent or 432,025 votes to become the Texas Democratic Party Nominee for Governor and will face State Attorney General Greg Abbott who won 92 percent or 1,219,831 votes to become the Republican Party nominee.
Davis and Abbott will face off in the November 4, 2014 General Election which will for the first time in 20 year pit a funded Democratic Party candidate against the Republican nominee. In Texas no Democrat has won an election statewide since 1994 and no Democrat has won for Governor since Ann Richards (also a firebrand female) won in 1990 against Clayton Williams.
African American Attorney Damian La Croix lost for State Senate to 40-year incumbent John Whitmire who as the "Dean" of the Texas Senate is the longest serving legislator in the state. Whitmire with $6.9 million in his campaign accounts was most proud of his African American support that included Sylvester Turner and most every other area African American legislator.
Dr. Alma Allen, long time loved State Representative from south Houston's House District 131 fended off challenger attorney Azuwuke Okorafor with 88.6 percent or 3,621 votes to his 11.34 percent or 463 votes as two years she was quick to dispatch a challenge from the then Houston City Council Member and now Houston ISD Trustee Wanda Adams.
African American Attorney Lori Gray lost the Democratic Primary 48.03 percent or 22,771 votes to former District Judge Steve Kirkland's 51.97 percent or 21,642 votes.
The opinions expressed in this story are solely of the writer's opinion and not representative of Houston Style Magazine.