Mayor Annise Parker and EPA Administrator Gina McCarthy Tour Buffalo Bayou Project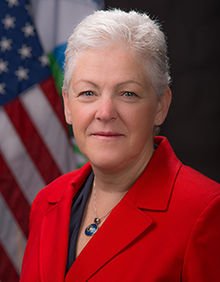 Mayor Annise Parker welcomed EPA Administrator Gina McCarthy to Houston and gave her a tour of the Buffalo Bayou Park construction project, and highlighted Bayou Greenways 2020. The Mayor serves on the President's State, Local, and Tribal Leaders Task Force on Climate Preparedness and Resilience and is working with the Administrator and others on actions to increase resiliency in cities.
Joined by Congressman Gene Green, State Senator Rodney Ellis, EPA Region 6 Administrator Ron Curry, Councilmember Jack Christie and Houston Parks and Recreation Director Joe Turner, the Mayor and Administrator talked in depth about the water quality, stormwater protection and green infrastructure aspects of the projects. Executive Director of the Buffalo Bayou Partnership, Anne Olson; Program Director for the Buffalo Bayou Park, Guy Hagstette; and Executive Director of the Houston Parks Board, Roksan Okan-Vick were also on hand to discuss how Houston is committed to enhancing and protecting water resources and green space.
"Houston's best defense against extreme climate events and natural disasters is grounded in its local efforts to leverage its natural resources – its bayous, marshes and wetlands," said Mayor Annise Parker. "Only through a strong vibrant natural landscape can we combat natural disasters like major hurricanes, annual flooding and water pollution."
Water quality is a key concern in Houston and along the bayous, and the City is continually working, as storms become more intense, to protect water quality from stormwater runoff and flooding.
"We support the EPA's emphasis on green infrastructure and projects such as Buffalo Bayou Park and Bayou Greenways 2020, they are all part of the suite of tools a city can use to enhance water quality and decrease flooding," said Mayor Parker.
"From building resilience through flood protection and green infrastructure, to safeguarding clean water and expanding recreational opportunities, the work to restore and conserve the Buffalo Bayou is creating new investments for the Houston economy and new outdoor spaces for all Houstonians to enjoy," said Administrator Gina McCarthy. "The EPA is proud to support this partnership for the Houston community."
This year, the EPA is reviewing new rules and actions as part of the Clean Water Act. The Mayor has asked the EPA to look at Houston's use of best practices, as the City works to slow the influx of polluted water into bayous and streams, and allow open spaces and green infrastructure to more naturally cleanse and slow stormwater and flood waters.
The Mayor and the EPA Administrator both committed to working closely together to use the best science available to move better stormwater management practices into Texas faster.
"The Buffalo Bayou Park is fast becoming a transformational green space project for our city. By partnering with numerous groups we are removing heavy sediment, stabilizing areas with severe erosion, and installing green infrastructure features which allow for improved water quality within the bayou," said Executive Director of the Buffalo Bayou Partnership Anne Olson. "The Mayor and Buffalo Bayou Partnership are committed to these types of green improvements and look forward to working with the EPA on current best management practices as we move forward."
"Only by leveraging our natural resources—and valuing the water quality, public health, and other environmental benefits that projects like Bayou Greenways 2020 provide—can a City like Houston deal with its growing population and economy in a way that provides sustainable growth," said Executive Director of the Houston Parks Board Roksan Okan-Vick. "The EPA knows this, and Mayor Parker's commitment to this program demonstrates that when we work with nature, the entire community will benefit."
For more information on the $58 million Buffalo Bayou Park project: http://buffalobayoupark.org/about-the-project/
For more information on the $215 million Bayou Greenways 2020 initiative: http://www.bayougreenways.org/bayou-greenway-initiative