Houston Minority Business Development Agency Hosts Grand Opening
Cynthia Nevels | 3/9/2014, 5:42 a.m. | Updated on 3/9/2014, 5:42 a.m.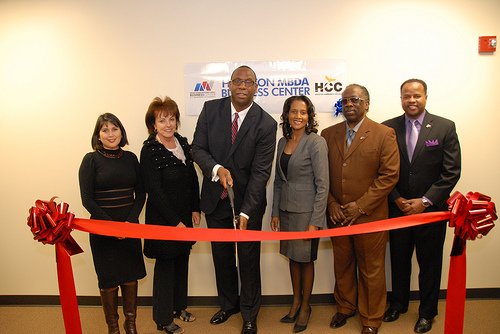 March 5, 2014 marked the grand opening of the U.S. Department of Commerce's Houston Minority Business Development Agency (MBDA) Business Center. The Houston MBDA Business Center is operated by Houston Community College.
Last fall Houston Community College received a grant from the US Department of Commerce to establish an MBDA office in Houston. MBDA Business Centers are designed to support and assist minority owned businesses to grow in size and scale, to penetrate new markets, both domestic and global. They also help businesses access advising services and information regarding securing capital, competing for contracts, identifying growth opportunities and becoming export ready. The center is staffed by business advisors who have practical business expertise and experience needed to run successful and profitable businesses.
The kickoff event started with a roundtable discussion with local business leaders who had a chance to sit down with Candace C. Shiver, Esq., U.S. Department of Commerce's Special Advisor to the Office of the National Director and Roger Harris, Houston MBDA's new Program Director to discuss local challenges minority businesses face in Houston and opportunities for enhancement and growth.
Harris stated during MBDA's evening reception, "We are proud to be able to help minority businesses access procurement opportunities, markets and capital to create jobs." The MBDA's mission is to foster the growth and global competitiveness of U.S. businesses that are minority-owned. Harris was formerly the External Affairs Manager of the City of Houston's Office of Business Opportunity. Previously, he was the owner of Beta Financial Resources, LLC and served as a Business Consultant with Houston Business Development, Inc.
The MBDA offices are located at 2302 Fannin, Suite 165 Houston, TX 77002. Visit Houston MBDA Business Center to learn more.