Amy Thielen Brings Back Midwestern Comfort Food for a 2nd Season of "Heartland Table"
Marcus Carter | 3/13/2014, 12:08 p.m. | Updated on 3/13/2014, 12:08 p.m.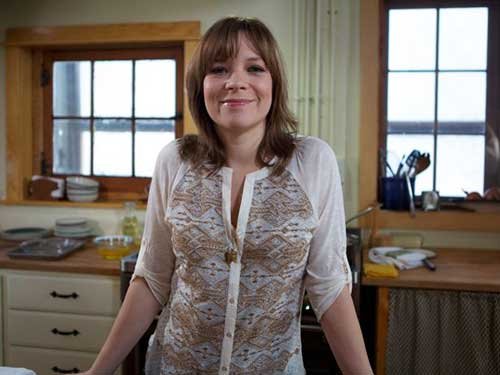 There is NOTHING like some good ole' comfort food, and according to Amy Thielen, comfort food reigns supreme in Midwestern cooking.  Food Network is bringing back this adventurous cook for a second season of "Heartland Table" and this season there is no holding back.  Amy will be pulling out all the stops and cooking up dishes from pork meatloaf to an interesting parsley salad.  I had the opportunity to speak with Amy about the new season, what she will be cooking for spring, and her favorite Midwestern comfort dish.
Marcus Carter: We are so excited about the 2nd season of Heartland Table, what can your viewers expect? 
Amy Thielen: Lots of delicious food!  We packed each episode with 3 sometimes 5 or 6 recipes.  This season gives the viewer a glimpse of my house and my family, which was so much fun! In one of the episodes my cousin Matt visits me and brings ½ of a local farm hog. We process the hog and then make an awesome pork meatloaf.  After that I make our grandmother's macerated apple pie with a leaf lard crust made out of rendered leaf lard from the pig.  Pork in your dessert, not bad!
MC: What about Midwestern comfort food do you feel resonates so well with your viewers?
AT: I think that I have a really good balance.  The way that I eat, I don't ever make myself feel bad for what I am eating in terms of indulgent foods.  I like to counter the richness of my cuisine with lots of garden produce, lots of vegetables and lots of salads.  I think viewers like that I am able to mix the indulgent with the healthy.  This season I have a new recipe for a parsley salad made with 5 or 6 cups of parsley.  It is almost like a Tabbouleh but with rice and toasted almonds.   This dish is very healthy and extremely addictive.  I like to keep something like that in my fridge at all times to counter all of the rich foods I eat.
MC: How and where do you find inspiration for your recipes?
AT: When I am looking at the Midwest for inspiration I am looking at recipes from my grandmother's era to present day.  I enjoy reinventing dishes from the 70's and 80's because they bring back great memories from my childhood.   I am also looking to the future with the influx of new people who are bringing their ingredients and customs to Midwestern cooking.  In St. Paul for instance, there is a large Hmong community and their eating habits are becoming part of the thread of the Midwest as well.
MC: In this Spring season what type of ingredients can one expect to see on your "Heartland Table"?
AT: Definitely rhubarb!  It is very common in the Midwest and the first thing that comes in for spring. I think lamb is an excellent meat for the Spring grill, especially after we have had such a long cold winter.  I also love those early greens that sprout in the yard. There is a reason they are around and that is because they are health tonics.  I make a soup with the greens, but please don't think it is all the way healthy because of course I added some bacon!