The Throne Returns for a SXSW Encore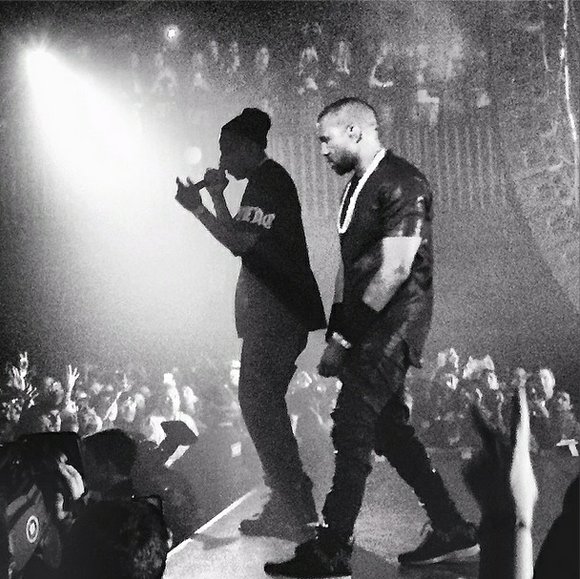 I often joke that Jay Z has never, intentionally listened to Yeezus, the album made by his understudy, "little brother" and Chicago's own golden child in Kanye West. Surely he doesn't play it inside the Carter house to lull Blue Ivy to sleep and definitely not while Beyoncé's around for them to juxtapose being hip cool dad and sexy mother being targeted by right wing media members.
That being said, those brave souls who let their blue Samsung wristbands be the ticket to their musical freedom found out on Wednesday night that Jay at least heard some of Yeezus as The Throne made a return to Austin in rather grand fashion. Gaudy, electric and constantly moving, the two plus hour set from both men felt like 2011, with a little bit of intrigue thrown in.
Then you think about it, 2011 was the year they first performed together and tinkered with the concept at a VEVO showcase. Some things, in the regard of a big time promotion screwing up all access to a show never change but I digress.
There they stood, atop those LED cube platforms that made WTT's original run seem like a spectacle in their own self-excellence. They cranked out "HAM", "Gotta Have It" and "Otis" while 3,000 people looked on in drunken glee. The balcony of the Austin Music Hall shook, the speakers ready to cave everything in once "Blood On The Leaves" hit but thankfully some were spared of that.Instead, Jay and Kanye once more reached into their bag of tricks where each man would get a solo run before coming back to their Throne material. West had more wrinkles than the other man, pulling out his "Sanctified" verse from Mastermind which led to a twelve-minute assault, "Black Skinhead", "New Slaves", "Jesus Walks". Bam. Bam. Bam.
Nothing shall be the awkwardness of seeing two men, both fathers and one soon to be married rapping their verses about sleeping with their wives. True, Kanye pulling out his "Drunk In Love" verse left me scratching my head. Not as much as watching Jay perform in front of an LED'd out "SURFBOARD" screen and teasing everybody by making them even think Beyoncé was in attendance but still.You'd think some things would feel flaccid if you've heard them enough. No, "PSA" and "U Don't Know" still evoke the same sort of riotous emotion that they did when you first heard them live. "Good Life" from Graduation may be the bright version of "Can't Tell Me Nothing" but then again – "Can't Tell Me Nothing" is an anthem unto itself. Every time The Throne come together, they're literally trying to one up one another before they have to close with "N*ggas In Paris", four times to be exact.
Was it better than the original? Given the new songs tossed in considering that they could have pulled a Prince and gone after all the hits and rarities. We're still holding out hope for a random show from either of them where they play only the album cuts.
Read more at dayandadream.com