M.I.A. Fires Back at NFL Lawsuit over Super Bowl Middle Finger Incident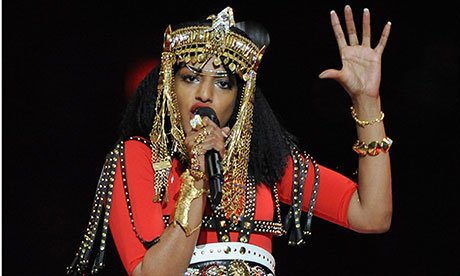 M.I.A is taking a stand against the lawsuit the National Football League is throwing at her for flipping the bird during her 2012 Super Bowl half-time performance with Madonna.
The English-Sri Lankan musician responded to what she considers a bogus legal imposition by the organization, in a video clip posted to YouTube on Monday.
"The NFL thing is completely ridiculous," the "Paper Planes" rapper said, speaking to an interviewer by phone.
Citing a breach of her performance contract, the league's legal team has demanded $1.5 million in damages from the musician.
In her response video M.I.A. tells the interviewer to re-watch the moment during the halftime show and notice that there are several cheerleaders that were, in her opinion, more offensive.
There's a row scantily clad "young black female" cheerleaders that no one seemed to complain about, she said.
Now they're scapegoating me into figuring out what is the goal post of what's offensive in America."
Read more at NYDailynews.com