Lady Panthers Make History with Fourth SWAC Title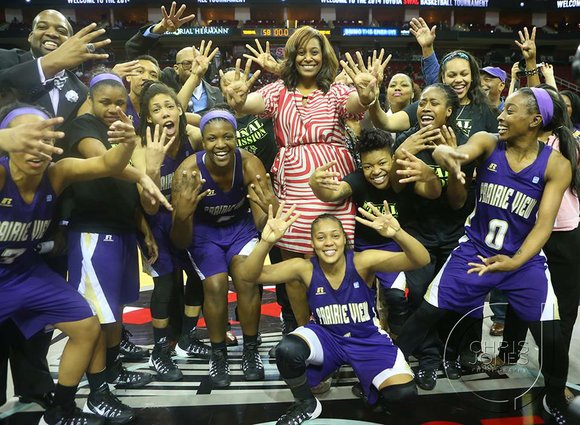 PVAMU officially became a part of SWAC history as the Lady Panthers captured the 2014 SWAC Tournament Championship for the fourth straight year following an emotional 63-58 win over Texas Southern at the Toyota Center.
The Lady Panthers became only the third team in SWAC history to win four consecutive SWAC Tournaments as senior LaReahn Washington leaves PVAMU with four rings on her fingers while Jeanette Jackson cemented herself as PVAMU's all-time single season scoring leader.
As SWAC champions, the Lady Panthers advance to NCAA Tournament play for the fourth straight year and sixth time in eight years. Their opponent and location will be announced on Monday evening during the annual NCAA Selection Show on Monday at 6 p.m. The Lady Panthers will host a watch party at a site to be determined.
For the second straight year, men's basketball team's ticket to the NCAA Tournament was snatched away in the second half as TSU overcame a double-digit deficit to claim a 78-73 win in the championship round.