Want MORE Style Freedom? Beautiful Textures has the Key!
Flip Flop with Beautiful Textures' New Texture Manageability System!
Bell TotallyRandie.com | 3/27/2014, 10 a.m. | Updated on 3/27/2014, 10 a.m.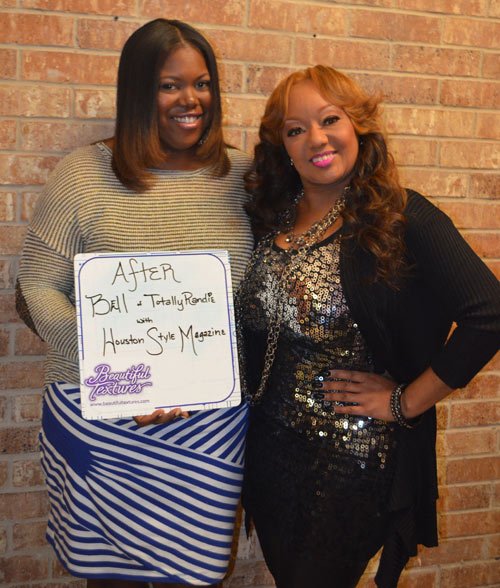 There has been a loud cry of help from women with natural hair who want to wear their hair straight without damaging their curls. On the flip side, they want their curls to be more manageable, elongated, frizz free, and defined. Earlier this year, Beautiful Textures answered that cry by debuting their new Texture Manageability System (TMS) to the hair community. The Beautiful Textures Glam Squad has been travelling to select major cities introducing the products with live demonstrations on how it works. On Sunday, March 23rd, 2014, they made their last stop in Houston, TX and #TeamStyleMag was on the scene to get the scoop!
The What:
In four simple steps Beautiful Textures' TMS can have naturalistas' hair go from a bounty of curls to smooth as silk straight in a fraction of the time of most methods. Resulting in hair that is better conditioned, no frizz, full of body, and shiny – everything a girl wants. Consumers can be worry free when using this product because it contains absolutely NO CHEMICALS. What is inside is an infusion of essential oils, natural butters and amino acids. The combination of ingredients safely straightens the hair and does not destroy the natural curl pattern. Beautiful Textures' TMS gives women with natural hair the freedom to be more versatile with their styles without all the fuss.
The How:
The system is completed within 4 easy steps:
Step 1: Cleanse the hair with a gentle preparatory shampoo.
Step 2: Apply the inner-active leave-in conditioner. Allow the leave-in to sit for 15-20min. Do not rinse!
Step 3: Blow out the hair.
Step 4: Flat iron and style.
The results will last 4-6 weeks before returning to the natural curl pattern. If more manageable curls without straightening the hair are desired, follow steps 1 & 2 and rinse. Revert back to the natural hair state by shampooing hair several times with a clarifying shampoo.
The Who:
This new system is for women of all hair types. Women who are natural will benefit because they are able to wear their hair natural and straight without the fear of heat damage. Additionally, lots of natural hair women have been known to love their "wet" hair look. TMS gives women that look with frizz free curl elongation. What about women with relaxed hair? Instead of getting a relaxer every 6-8 weeks, TMS allows women to "stretch" their relaxers and lessens the amount of chemical applied.
The Verdict:
Hearing all the wonderful ways this product can transform my hair I just had to try it. Guys, I loved it. Beautiful Textures' TMS is an amazing product. I couldn't get over how light (in weight) my hair felt. I literally hurt my neck shaking my hair. See my before and after shots on Instagram @stylemagazine and @totallyrandie.
As of right now, Beautiful Textures' TMS is only sold in select areas of the US and is looking to hit stores in Houston in June of this year. Follow @lovinmytextures to see more women take the plunge of the TMS challenge.