Gay couples say 'I do' in England and Wales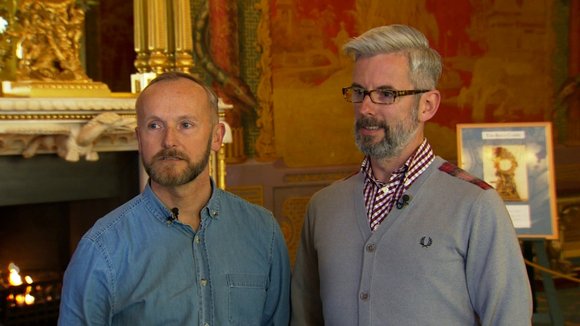 By Marie-Louise Gumuchian and Erin McLaughlin
CNN
Andrew Wale is a writer and actor. His partner, Neil Allard, is a guesthouse owner. They are about to make history.
As the clock strikes midnight on Friday, the couple will be among the first men marrying men and women marrying women in a range of ceremonies across England and Wales as a historic law legalizing same-sex marriage finally comes into force.
Wale and Allard have long known they wanted to commit officially and have waited five years for gay and lesbian couples to be able exchange vows legally in their home country.
That day has finally come.
"When we were born, it was illegal to be gay, let alone get married," Wale, 49, told CNN during last minute preparations ahead of the wedding. "I didn't think about the possibility for most of my life. It is only really recently that suddenly the option seemed to be on its way."
A day many thought would never come, the marriage law was the final victory in a long battle that has already secured the same age of consent as heterosexuals and the right to adopt. England and Wales are among 15 countries as well as parts of the United States and Mexico that allow same-sex marriage. The Netherlands was the first in 2001, and last year Brazil, Uruguay, New Zealand and France also joined the list.
The opulent splendor of the Royal Pavilion in the English city of Brighton will provide the backdrop to Wale and Allard's marriage. Theirs will be the first same-sex wedding in a city that celebrates gay pride every year and is proud of its history of inclusion.
As the winners of a competition by the local council to find the right couple for the historic occasion, Wale and Allard will make their vows at one minute past midnight beneath the nine lotus-shaped chandeliers hung from the gilded cockleshell domed ceiling of the music room, where King George IV's guests were once entertained with Handel or Italian opera.
'They are equal'
Going through last minute details with the wedding's organizers, both said they were excited beyond measure.
Both had agreed civil partnership did not feel like full equality and decided to wait for marriage. But there was no sign that this would be possible until recently.
The Marriage (Same Sex Couples) bill was published by Britain's coalition government in January last year. In July, the legislation was approved to allow same-sex couples to officially marry in England and Wales.
Prime Minister David Cameron faced vocal opposition from some members of his Conservative Party. The Church of England also objected, and was given an exemption from conducting same-sex ceremonies.
But despite some opposition, the bill passed.
Legalizing gay marriage says "something deeper about the sort of country we are," Cameron told Attitude magazine in a recent interview.
"This is a country with proud traditions of tolerance, respect and equal worth. With this reform we are being true to those values. In turn we are sending a powerful message to young people growing up who are uncertain about their sexuality: We are telling them that they are equal."