Rushion and Cicely McDonald present the first of $75,000 in scholarships to African American Students at the University of Houston Black Alumni Association 24th Annual Gala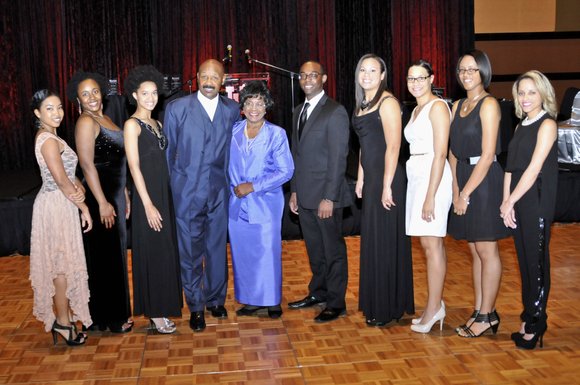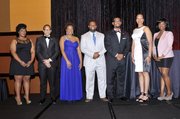 Houston – A celebratory evening that attracted 350 University of Houston alumni, community leaders, students and university officials culminated in the presentation of eight $2,500 scholarships at the University of Houston (UH) Black Alumni Association's 24th Annual Scholarship and Awards Gala Saturday night.
The donation was made by UH alum Rushion McDonald, executive producer for the Steve Harvey Morning Show and the Steve Harvey Talk Show and consulting producer for the hit game show "Family Feud," and his wife, Dr. Cicely McDonald.
This unprecedented gift of full-tuition awards raised the overall 2014 scholarship award tally to $33,500. "When I was in school," McDonald said, "I would see lots of kids getting $500 scholarships, but they were still struggling. So, I asked "how much does it cost for tuition, and that's what we decided to give."
He also gave credit to the University of Houston, particularly the Department of African American Studies for "changing his life." Although he earned a bachelor's degree in mathematics and his wife earned her B.S. and O.D. degrees from the UH College of Optometry, this class helped him to understand who he was and what he could become.
The evening included eight additional scholarship presentations to UHBAA Pathway to Excellence Scholars and one endowed scholarship from Bracewell and Giuliani, LLP, the group's first endowment established in 2007.
A distinguished group of five accomplished African American alumni and two corporate supporters were also recognized, Terence Fontaine, chief administrative officer for Metropolitan Transit Authority of Harris County (METRO); The Honorable Charles McClelland Jr., chief of police, City of Houston; De Rose, manager of ancillary services, CHI St. Luke's Health; Mary Page Prince, president and CEO of both Rookie's Cookies Inc. and Without Ceasing Inc.; and Crystle Stewart, who plays "Leslie" on Tyler Perry's "For Better or Worse" television show and is "Miss USA 2008." Corporate supporter recipients, Roderick Brown with UPS and Fred Hoyer of Bayway Auto Group were also lauded.
Wayne Luckett, president and CEO of Branwar Wine Distributing Co., chaired the event. Guests in attendance included The Honorable Al Green, U.S. Congressman for the Ninth Congressional District; The Honorable Sylvester Turner and The Honorable Alma Allen, UH alums and state representatives; HISD trustee and former council member The Honorable Wanda Adams and The Honorable Larry V. Green, Houston City Council member, District K, who is a past honoree; and The Honorable Zinetta Burney, also a past honoree, a former UH regent and, now, Justice of the Peace; and The Honorable Lynden Rose, also a former UH System Regent.
The Rushion and Cicely McDonald Scholarship was established in 2013 to provide scholarships to African American students enrolled at the University of Houston in the colleges of Natural Sciences and Mathematics and Optometry. Its purpose is to offer a source of merit-based aid to bright, talented individuals from working families who desire a Tier One education.
The 2014 McDonald Scholarship recipients and their majors are: Fre'Etta Brooks – medical physics (graduate student); Karlotta Bushnell – optometry; Maleeya Coleman – chemistry (graduate student); Aisha Fields – optometry; Ashley Lewis – mathematics; Nisha Mathews – chemistry; Bria Patterson – geology and Tedrick Smith – optometry.
Victoria Banjo, a senior majoring in finance, received The Bracewell & Giuliani Endowed Scholarship of $1,500 from Jeff Vaden, a partner in the firm.
Pathway to Excellence scholarships for 2014 were given to: Chelsea Adams – business management; Benjamin Broadous – finance; Courtney Caldwell – accounting; Branston Harris – higher education administration & supervision (graduate student); Latasha Micheaux – health education (graduate student); Robert Melvin – higher education administration (graduate student) and Princess Roberts – finance.
UHBAA President Brandon Wiggins ('10) presented special recognition awards to the McDonalds and to Vonda Mays, a past president who facilitated the partnership with Rushion and Cicely.