Jennifer Holliday Dazzles in The Color Purple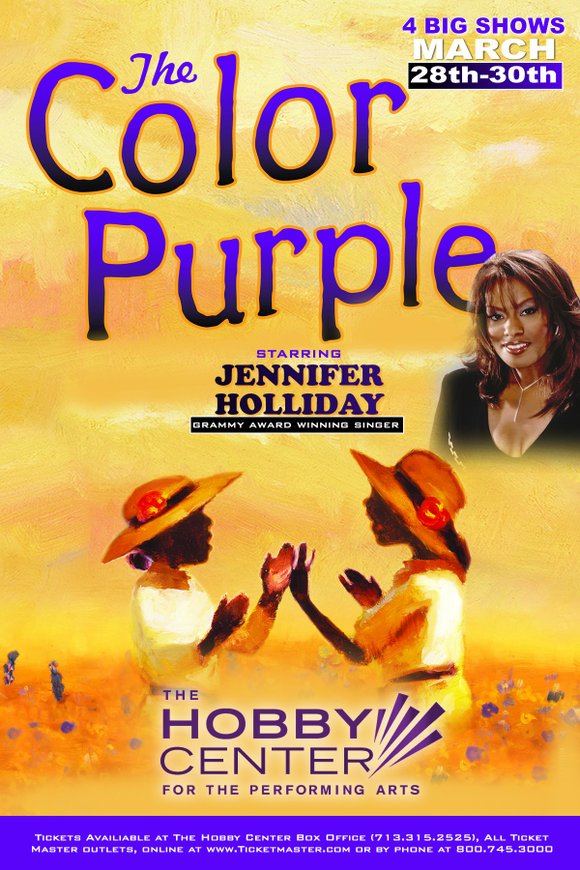 The Color Purple opened in Houston last Friday night to a sold out crowd at the Hobby Center. If you were a fan of Alice Walker's Pulitzer Prize-winning 1982 novel and Steven Spielberg's award winning film; the musical adaption written by Marsha Norman is one you will surely come to love.
The screenplay and popular scenes come to life with a musical score filled with uplifting gospels and soul stirring musical ballads of jazz and blues. What moves the outstanding show along is an ensemble of talented singers and dancers. There is a funny, harmonizing -trio of lady town gossipers; an emotional riveting, fiery, dance scene that takes place in Africa; and a lively jute -joint song and dance number that will have you humming along and dancing in your chair.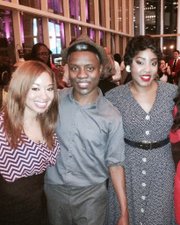 The standout out star of the night was the talented, chart-topping, Houstonian Jennifer Holiday, who displays her show-stopping vocal chops in her character's first break out song of the night. Holliday's talented, funny, and heart wrenching performance as "Sophia" held the audience at the edge of their seats for the rest of the night. Other stand -out performances included: the sassy, sultry bi-sexual "Shug Avery" played by Nyfesha Miller, the gut wrenching- inspiring, transformation of "Celie" played by Tashika Benson and the mean and convincing "Mister" (a character we all love to hate) played by veteran actor KC Lee.
Director John Ruffin does a superb job bringing together a team of great actors on stage and array of talented people behind the scenes as well. His rendition, under the musical direction of Phillip Peterson, included a nine piece band that showcased a stream of great dance and musical performances throughout the entire night. The skilled dance performances are choreographed by award winning choreographer Wink, also known for her talented work on Dream Girls and the Whiz. Talented set designer Keith Jackson builds a creative set, that depicts many different magical scedes and color hues. Expect to see "Celie" and Mister's weathered house, fields of grain, full moons, and a clever Jute Joint stage that sparks to life.
Production Manager, Michael Brown, efforts result in an artistic blend of rural country as well. His sets design also included a smart multimedia backdrop that transcends the audience on a visual journey through fields of sunflowers, woods of rural poverty, and a fire emblazoned Africa. You will be taken aback and visually moved out of your seat.
Costume designer Balena Redmond also does a fantastic job of portraying the characters from "uglying" up "Celie" in a large, gawky, floppy hat and a homily ankle-length frock; while displaying the sexy and sultry "Shug Avery" in seductive outfits and fur coats.
The production is definitely a feast for your eyes and ears and the musical performances will wake your soul. The main characters are both convincing and charming, while the supporting characters: "Harpo" (Todd Rasean), "Squeak" ( Aerial Williams), and "Ol Mister" (Sean Washington) comedic quips throughout the show add lots of humor and delight. The show's cast of actors all craft out solid and talented performances; showcasing emotion while delivering gut-wrenching songs. I found myself sitting in an audience filled with laughter and boasting bouts of cheers and jeers.
The Color Purple does however, run a bit long with Fridays night's performance ending closer to 11 pm, but it worth a night out in the end. The show ends with a great song by "Celie" (Tashika Benson) whose character rises strong at the end and beautifully sings "God Is In Everyone", reminding the audience of a very important lesson about the power of forgiveness. With a sold out performance opening night, there is no denying the plays success. The Color Purple Musical is a delightful play that captures your heart and makes for a spiritual and uplifting evening.
Theatre 47 Limited edition performance was the hottest ticket in town !!!!