Mayweather Survives Maidana, Improves To 46-0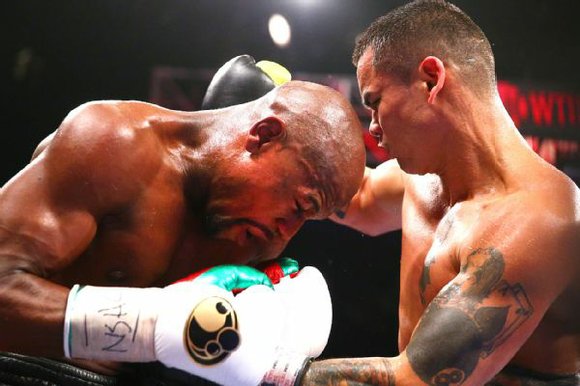 LAS VEGAS - For one night 2, not 0 was Floyd Mayweather's lucky number.
The pound-for-pound boxing king found himself in favor of two of the three judges scoring his fight with a game and wildly aggressive Marcos Maidana on Saturday night, winning by majority decision to remain undefeated and unify two pieces of the welterweight crown before a sold-out crowd of 16,268 at the MGM Grand Garden Arena.
But he, unlike previous fights with Canelo Alvarez and Robert Guerrero definitely had to work for it. Maybe harder than any other fight before.
Mayweather (46-0, 25 KOs) relied on accuracy to out point Maidana, landing 54% of his 426 punches compared to 26% for Maidana who threw 858 punches and landed 221, higher than any Mayweather opponent before him.
"This was a tough, competitive fight. This is what fans want to see," Mayweather said. "I want to give fans an exciting fight. Normally, I box and move. Tonight, I gave fans an exciting fight."
Not since his battle in 2012 with Miguel Cotto at junior middleweight had he had a more exciting fight in the eyes of many boxing fans and purists. The usual ho hum Mayweather affair sees Floyd execute his game plan of figuring an opponent out over the course of the first three rounds before dazzling them with defense, counter punching and more for the next nine. Maidana, a 12-to-1 underdog and written off by most in his attempt to become the first to defeat Mayweather was in the fight the entire time, some even thinking he won.
The flash created instant buzz following the fight who wished to see a rematch between the two.
Judges Burt Clements (117-111) and Dave Moretti (116-112) both went with Mayweather, while Michael Pernick had it 114-114, drawing boos from a fervent Argentine crowd that was pro-Maidana the entire night.
Maidana (35-4, 31 KOs) thought he had it won.
"I definitely think I won," he said via translator. "Floyd did not fight like a man like I expected him to do. I had to change the gloves [after a last-minute problem with his original gloves on Friday] and I still gave him a great fight.
In December, Maidana had proven to be aggressive, overwhelming a then undefeated Adrien Broner, knocking him down twice and dominating him to win the welterweight title and gain the attention of Mayweather. His game plan seemed to use those exact same tactics as from the opening bell, Maidana swarmed the undefeated champion, looking for a knockout and remaining aggressive throughout.
Mayweather also suffered a rare moment of vulnerability in the fourth round, a cut over his right eye. But the champion adjusted and dealt with the heat, outpointing Maidana in the end.
NOTES
The fight, Mayweather's third in a six-fight deal with Showtime earned him $32 million. Maidana earned at least $1.5 million, plus revenue from the Argentina television market and more. Mayweather also became the first fighter to simultaneously unify titles in two weight classes, junior middleweight and welterweight with his victory over Maidana. There has been no announcement for Mayweather's next opponent as he's scheduled to fight once more in September.