NAKIA COOPER & TRAVIS TORRENCE WIN AT THE 2014 DANCING WITH THE HOUSTON STARS CHARITY COMPETITION
The Urban Souls Dance Company 4th annual fundraising gala held a packed house of guests, celebs & dancers in the Bayou City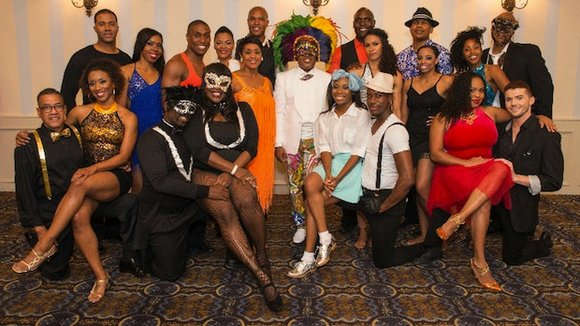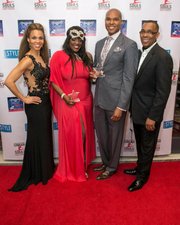 May 5th, 2014, Houston, TX---Travis Torrence and Nakia Cooper danced their shoes off in front of a packed house left gasping, clapping and cheering for more to become the 2014 Male and Female Dancing champions, with Torrence winning as Overall Fundraising champion, at the 4th annual charity gala & fundraiser, "Dancing With The Houston Stars!", hosted by Urban Souls Dance Company, a professional dance company and non-profit social arts organization committed to bridging the gap between urban life and dance-theater, last night at The HESS Club.
Paired respectively with Urban Souls dancers Donnie Johnson and Mayra Bullock, Cooper, a senior producer of digital media with KHOU.com and Torrence, an attorney with Shell Oil, each proceeded to burn the floor in a fierce competition-style battle of dancing in front of a stellar audience of Houston notables participating in this year's theme "Urban Masquerade", including the Honorable Mayor Annise Parker, Congress woman Shelia Jackson Lee, former Mayor Lee P. Brown, actress & dancer Charnele Brown (known for the role of Kimberly Reese from "A Different World") and former Houston Texans Chester Pitts and Corey Bradford.
Cooper came out with a sultry nod to Beyonce by dancing to "Rocket" and finishing up with Missy Elliot's hip-hop classic "Lose Control", while Torrence paid homage to the great Janet Jackson hit "If", executing choreographed moves with a precision that had the entire audience on their feet. Other amazing performances included a sultry & hot jazz number by Emmy Award winning journalist Linda Lorelle who completely "wowed!" the crowd with her performance & agility, (paired with Urban Souls dancer Nick Muckelroy) and an athletic and energizing performance from former NFL professional athlete, current Houston Texans Ambassador and NFL "Heads Up" Ambassador Ricardo McDonald (paired with Urban Souls dancer Lauren Burke)
Hosted by 2013 DWTHS competitors, Houston orthodontist Dr. Heather Brown and Assistant Dean, Student Programs & External Affairs at Texas Southern University, LaRence Snowden, this year's event raised over $30,000.00 for Urban Souls programming and dance outreach in the community. Guests were treated to an all-white VIP reception, red carpet photos and the sultry sounds of local jazz vocalist Marium "Echo" Rattler before the dance competition commenced.
Some audience members were moved to tears following an intermission performance by Urban Kids called "Irrevocable Desire" choreographed by Meoka McBride. Urban Kids, the youngest members of Urban Souls, are a group compromised of tween girls ranging from 10-13 years old.
The fabulous celeb dancing cast of contestants also included:
Ayana Mack - Radio personality, multi-media socialite and DJ (97.9 The Boxx)
Chris Ferguson - Director, Price Waterhouse Cooper
Erica Lee Carter – Harris Country Board Of Education Trustee
Dr. Kevin Smith – Facial Plastic Surgeon and owner of the Smith Center
Rashia Whitlock - Actress
William-Paul Thomas - Director of Council Relations, Office of Mayor Annise Parker
Urban Souls partner dancers were Walter Hull, Leonard Price, Jeremiah Jenkins, Tamara Fields, Stephanie Dunlop and Loren Holmes.
Urban Souls Artistic Director, Harrison Guy, said "I'm floored. I'm amazed. The performances, the technique and the entertainment that we saw tonight only solidify that DWTHS has grown to be THE event in dance performance in Houston to attend. The local participation for the event from our media partners to marketing partners, really was displayed with the tremendous growth every year. This year's event has far exceeded my expectations and has truly set the bar as we prepare for DWTHS 2015!"
2014 Dancing With The Houston Stars! Judges included:
Elizabeth Gardner, current Houston Texans Cheerleader
Christopher (YungChris) Thomas, Founder/ Artistic Director Son Kiss'd Dance Theater
Dr. Lee P. Brown, former Mayor of Houston
Joy Sewing, Houston Chronicle Fashion & Beauty editor
Jade Gold, Owner Prop Rock Concepts & 2012 DWTHS Champion
Houston City Council Member Dwight Boykins
Veronique M. Shipley, former Houston Rockets Dancer and fashion designer
100% of the 2014 Dancing With The Houston Stars proceeds will benefit Urban Souls Dance Company programs including educational training, arts awareness & education, global outreach and ongoing support for upcoming events, programs and shows.
Follow Urban Souls Dance Company on Twitter @urbansouls, on Instagram at UrbanSoulsDance and Like us on Facebook
ABOUT URBAN SOULS DANCE COMPANY
Founded in 2005, Urban Souls Dance Company (USDC), is a Houston-based professional dance company and non-profit social arts organization that is committed to bridging the gap between urban life and dance-theater. USDC strives to promote the importance of performing arts and leadership in arts education to the Houston community in anticipation of exposing more youth to the arts. USDC provides the Houston community a language that inspires and enables people to communicate in ways that transcend the boundaries of race, politics, and socio-economics.