Grammy-Winning Singer Natalie Cole Opens Up About Addiction at Houston Benefit
The Council on Alcohol and Drugs Houston's Annual Spring Luncheon Raised Over $500,000 for Addiction Treatment, Education and Prevention Services in Houston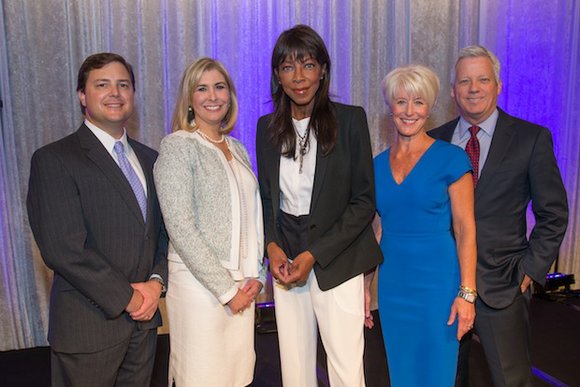 HOUSTON, Texas (May 6, 2014) – Last Thursday, singer Natalie Cole shared her inspiring personal story of recovery from addiction to a crowd of over 1,100 at the Hilton Americas-Houston for The Waggoners Foundation Speaker Series' 31st Annual Spring Luncheon. The event brought in over $500,000 for the not-for-profit drug and alcohol treatment, education and prevention organization, The Council on Alcohol and Drugs Houston. This year's event was co-chaired by Shannon and Jim Braniff, IV and Carol and Jim Farnsworth, and featured broadcaster Lisa Malosky as Mistress of Ceremonies. Luncheon supporters included Ellen Rutherford, Sarah Foshee, John D. Schiller, Jr., June Waggoner, Randa and Charlie Williams, Jerri Duddlesten Moore and Jim Moore.
Addiction affects one in four Houstonians and is included alongside cancer and heart disease as one of our nation's most fatal diseases. Established in 1946, The Council is committed to fighting this disease by providing best-in-class care while turning no one away. This annual fundraising luncheon series raises critical financial resources for the agency to provide services to as many Houstonians as possible each year.
"You are not alone… you struggle, but so did somebody else" said Natalie Cole during her keynote about how she got through her addiction and found recovery. "I can't tell you how blessed I feel for what I've come through… All you have to do is stick out your hand, and someone will take it."
"It doesn't matter what you look like, who you are, or what you do for a living – this disease will grab you," remarked luncheon co-chair and Council Board member Carol Farnsworth during the luncheon presentation.
"Today, Natalie reminded us that addiction knows no boundaries, whether you are a celebrity's daughter and star yourself, or someone growing up right here in Houston," said Mel Taylor, President and CEO of The Council on Alcohol and Drugs Houston. "When someone of her profile is unafraid to open up and admit to her struggles, it gives hope to countless others that they can do the same, and also find happiness again. The Council is proud to have helped her share this message."
The event also included a touching tribute to Virgil Waggoner, who passed away in November. Virgil's widow, June Waggoner, was present at yesterday's event to accept a Legacy award on his behalf. June and Virgil are the benefactors of The Council's luncheon series, named The Waggoners Foundation Speaker Series in honor of their son, Jay Waggoner, whom they lost to addiction.
Since the luncheon series' creation in 1999, it has attracted over 25,000 people and raised over $11 million. Past luncheon speakers include Jamie Lee Curtis, Ashley Judd, Carrie Fisher, Paul Williams, and Jim Belushi.
About The Council on Alcohol and Drugs Houston: The Council on Alcohol and Drugs Houston, founded in 1946, is committed to keeping our community healthy, productive and safe by providing services and information to all who may be adversely affected by alcohol and drugs, impacting over 365,000 annually. The Council is a 501(c)(3) nonprofit organization and receives funding from the United Way of Greater Houston and the Texas Department of State Health Services as well as private contributions, special events and program fees. For additional information, visit our website at www.Council-Houston.org.