Houston Style Magazine Honors Adoptive Mothers
Jo-Carolyn Goode | 5/6/2014, 8:24 p.m. | Updated on 5/6/2014, 8:24 p.m.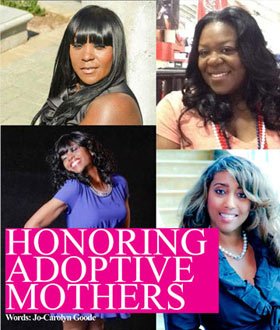 Any mother will tell you there is no greater joy in life that of being a mother. Nurturing, teaching, and watching their children grow into productive citizens just makes their hearts skip a beat. Unfortunately, the route to motherhood is not always easy for some women. Infertility or other health concerns cause some moms-to-be to seek other methods to get their bundles of joy. This Mother's Day Houston Style Magazine honors adoptive moms, women who vowed to be mothers no matter what.
Dr. Tameya Sam
For years Mother's Day was a day that would make Tameya very depressed. Like many women with infertility issues, she hated the day because she didn't have children of her own. After trying this and that, she and her husband were led to adopt. Through prayers to God and the help of Depelchin Children's Center, Tameya became the mother of a bouncing baby boy named Joshua. "I have never felt so much love in my heart in my life," said Tameya, as she spoke about the first time Joshua was placed in her arms.
Now Mother's Day is a celebration at the Sam's household. "He (her husband) starts every Monday before Mother's Day with pink teacup roses, because they are my favorite, and a small gift each day until Sunday." Two kids and twelve years later it is still the same. On the date of Mother's Day the family has their traditional meal at Luby's, partakes in a movie, and finishes the day with dessert at Marble Slab Creamery.
As the mother of an adoptive child and a child she birth Tameya says, "There is no difference in my unconditional love, dedication, commitment, and relationship, I have for both of my children."
It is sometimes thought that the bond between an adoptive mother and a child is different from that of mother who birthed a child. Tell me about your relationship with your child.My son is one of the highlights of my life. I know without a shadow of a doubt I was given the cross of infertility to bear because I was destined to be his mommy.  The only difference between my birthing and adoptive experience and my only regret is that I wish I could have breast feed him.  He is my son and for both of my children I would give all that I have.  There is no difference in my unconditional love, dedication, commitment, or relationship for either of my children.
What's the biggest lesson that you hope your children learn from you?Hard work makes for a better life because you can truly appreciate the fruits of your labor when you work hard to make life better for you.  Life is hard enough without having to worry about financial struggles.
Is there anything else that you want to add?The gift of motherhood was held from me for 8 years, with failed invitro attempts and failed artificial inseminations, and it nearly broke me to no end.  However, when Joshua came into my life it showed me that there is nothing in this world that I would not do to make my children smile and keep them safe.  The smiles, kisses, hugs, being called "Mom", is literally priceless, and I am so thankful that God thought enough of me to finally entrust me with this experience, and for that I am truly grateful.