Soto: The Houston Penetrable Exhibition Opens on Thursday, May 8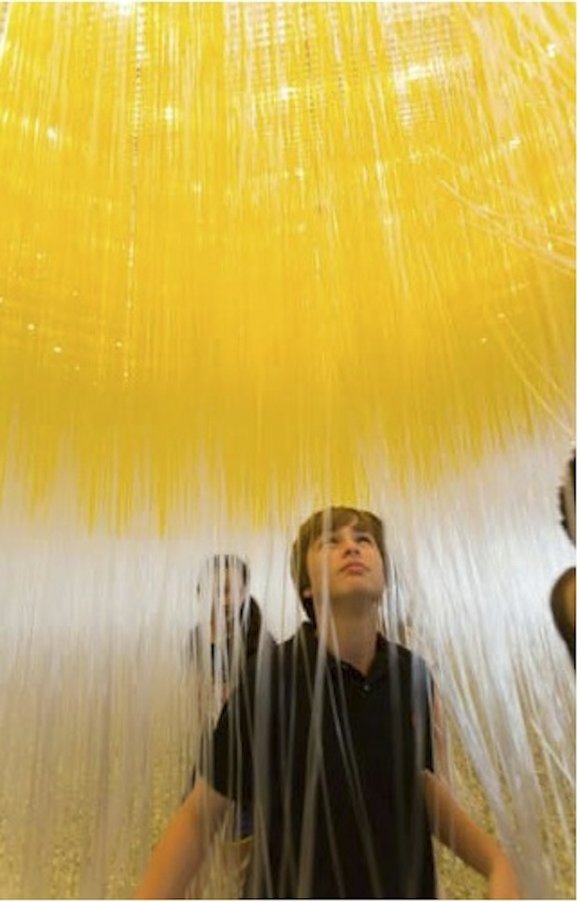 What - Visitors to the Museum of Fine Arts, Houston, this spring and summer will become part of a great marvel of contemporary art: one of Venezuelan artist Jesús Rafael Soto's signature Penetrables. Soto: The Houston Penetrable will be on view from May 8 to September 1.
Mercantil Commercebank sponsors the debut presentation of the Houston Penetrable, a sea of 24,000 hand-painted PVC strands suspended from the ceiling of Cullinan Hall. The artwork is equal parts geometric abstraction, architecture, sculpture, environment and playscape, and it is completed only by the viewer's participation. This indoor piece was designed by Soto on commission from the Museum in 2004 and is the largest and most ambitious work that the artist ever created. Accompanying the exhibition are eight exemplary pieces from the various phases and series of Soto's career.
When - Museum hours are 10 a.m.–5 p.m. Tuesday and Wednesday; 10 a.m.–9 p.m. Thursday; 10 a.m.–7 p.m. Friday and Saturday, and 12:15–7 p.m. Sunday. The Museum will be open 10 a.m.–5 p.m. on Memorial Day and Labor Day and 10 a.m.–7 p.m. on Independence Day.
Where - The Museum of Fine Arts, Houston The Caroline Wiess Law Building 1001 Bissonnet Street
Opening Program - Happy Hour Thursday
Thursday, May 8, from 6 to 8 p.m.
On opening day, the Museum spotlights Soto with specialty cocktails at Happy Hour Thursday. A DJ spins under the porte-cochère and Ladybird Food Truck parks nearby.
Gallery Talk: Installation Art
Saturday, May 10, from 12 to 12:45 p.m.
Unlike paintings, sculpture and drawings—which visitors are asked not to touch—installation art invites visitors to step on, be inside of or be surrounded by the art. The tour on May 10 includes a focus on the Houston Penetrable.
Sketching Soto
Saturday, May 10, from 1 to 4 p.m.
Visitors of all ages are invited to try their hand at sketching the movement and layers that come together in Soto: The Houston Penetrable. A teaching artist is on hand with paper, pencils and clipboards.
#SotoSummer
Museum visitors are invited to share their Soto experience by posting selfies and other photos on social media using #SotoSummer—there's even a chance that these photos could be shared on the Museum's social-media pages and website. From May 7 to June 7, a complimentary photo printer will print a copy of any visitor photos posted to a public Instagram or Twitter account using the #SotoSummer tag.
Admission - General admission to the Museum provides entrance to Soto: The Houston Penetrable Museum members receive free general admission. General admission tickets are $15 for adults; $10 for senior adults (65+); $10 for military with valid ID; $7.50 for students (19+) with valid ID; $7.50
for youths (ages 13–18); and free for children (12 and younger). General admission to the MFAH is free on Thursdays, courtesy of Shell.
Organization & Funding - Soto: The Houston Penetrable is organized by the Museum of Fine Arts, Houston, in collaboration with the Atelier Soto, Paris.