Could pot push voters to the polls this fall?
Willie Grace | 5/8/2014, 3:20 p.m. | Updated on 5/8/2014, 3:20 p.m.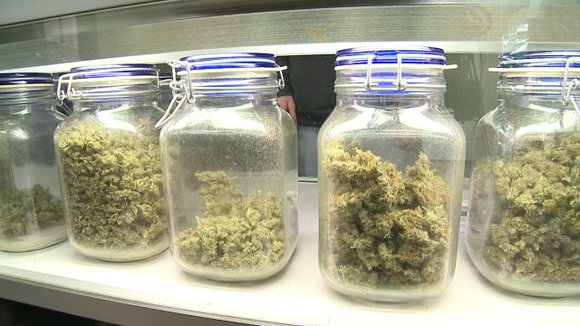 WASHINGTON (CNN) -- Political operatives are pushing pot legalization in several states this year in the hopes of sparking high turnout in this fall's midterm elections, and are looking ahead to 2016 as well.
If voters approve a closely-watched ballot initiative in November, Florida could become the first Southern state to allow medical marijuana.
And voters in Alaska and Oregon --- two states that already allow medical marijuana and have decriminalized harsh sentencing for some recreational use --- will likely vote on whether to join Colorado and Washington in allowing, taxing and regulating pot for recreational use.
There's not much of a smoke screen shrouding as to why some Democratic political strategists would want marijuana measures on ballots this year given President Barack Obama's low approval numbers and the party's historic slump in terms of turnout in midterm election years, marijuana policy analysts said.
'Young adults and legalization'
"It's nothing but politics," said Jon Gettman, an assistant professor of criminal justice at Shenandoah University. "If anyone's electoral strategy is to bring out new voters, one area they would target is young adults and marijuana legalization."
That's because people under 30 are more likely to use and be arrested for pot, Gettman said. And, he added, young voter attitudes about legalizing marijuana also tends to cut across political ideologies and includes a cross section of liberals and libertarians.
According to a Pew Research Center poll conducted in February, 70% of respondents between 18 and 29 believe marijuana should be legalized. Comparatively, 32% of people 65 and older support legalization.
So, political operatives and their well-heeled backers have sallied forth, in part, with the hopes of hooking those elusive young voters with the allure of legalizing marijuana.
For example, Oregon's petition drive, which the National Conference of State Legislatures said is gaining steam, is funded by New Approach Oregon. The group last year received $50,000 from the Drug Policy Alliance, an organization with ties to billionaire and pro-marijuana legalization advocate George Soros.
Alaska's Begich in tight race
In Alaska, "the finances were right" to put money and effort into getting a ballot initiative, said Dan Riffle, director of federal policies for the Marijuana Policy Project, a pro-pot legalization group.
In that state, Democratic Sen. Mark Begich is in a competitive race to keep his seat.
Those who oppose marijuana legalization balk at the influence of big cash and election year pushes.
"It hasn't been a fair fight in terms of messaging. They've spent over $100 million to advocate this," said Kevin Sabet, an assistant professor at the University of Florida's Drug Policy Institute. "It speaks to the money in marijuana politics."
"You have special interest groups lobbying, pollsters, public relations and marijuana companies that are funding this. They stand to make a lot of money if (marijuana legalizes nationally)," said Sabet who served as a drug policy adviser to both Republican and Democratic administrations and is on the board of directors of Smart Approaches to Marijuana, an anti-pot legalization group. "This is about creating the next big tobacco and getting rich off of other people's addictions."