Could pot push voters to the polls this fall?
Willie Grace | 5/8/2014, 3:20 p.m. | Updated on 5/8/2014, 3:20 p.m.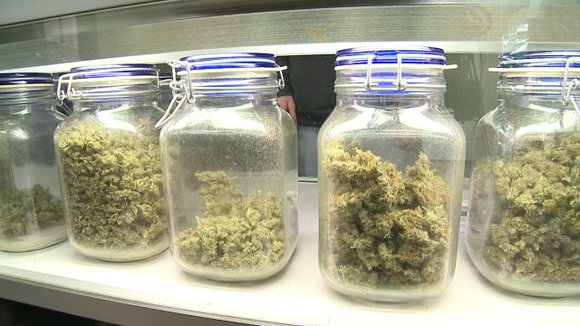 In the effort to get marijuana-related ballot initiatives, pro-pot legalization advocates have also netted the support of older voters who perhaps may be more likely to suffer from ailments they hope marijuana can alleviate, and those who were born during the 1960s and 70s and bore witness to looser cultural attitudes about drug use, marijuana policy experts said.
Drawing voters to polls
Pot measures are more likely to draw voters to the polls, said Chris Arterton, a political management professor at George Washington University who helped conduct a national poll in late March examining the issue.
According to the poll "39% of surveyed voters reported that they would be much more likely to turn out to the polls if there was a proposal to legalize the use of marijuana on the ticket. An additional 30% said that they would be somewhat more likely to vote in the election under that circumstance."
According to the poll, 40% of Republicans and 39% of Democrats say they would be strongly more likely to turn out, Arterton said.
A CNN/ORC International poll conducted in January found that a little more than half of those surveyed --- 55% --- supports marijuana legalization. This is an increase from the 16% who supported legalization a quarter century ago.
Legal in 21 states, DC
Medical marijuana is legal in 21 states and the District of Columbia, according to the National Conference of State Legislatures. This year, 18 state governments had measures dealing with legalizing marijuana for recreational use, according to National Conference of State Legislatures.
Some 15 states considered whether to create new medical marijuana laws, 14 weighed creating new medical marijuana programs and 14 considered decriminalizing marijuana, according to an analysis of current state marijuana legislation efforts performed by the National Conference of State Legislatures for CNN.
Fewer than a dozen of the measures have been enacted, the analysis found.
Meanwhile, the politics of putting an initiative on the ballot to legalize medical marijuana in Florida has proven hazy indeed.
Crist running in Florida
Wealthy Orlando trial attorney John Morgan is helping bankroll not only the pot ballot initiative push and voter turnout efforts, but also the campaign of former Gov. Charlie Crist, a Republican-turned-Democrat, in his effort to reclaim that office.
Morgan said he poured $4 million of his own money into the ballot effort to help people like his brother, who is a quadriplegic, and his father, who died from esophageal cancer, whose suffering was eased by medical marijuana.
Republicans have cried foul over the connection and say Democratic operatives are just using pot as a ploy to turnout votes for Crist.
"I love Charlie Crist and I like Charlie Crist, but I don't like him $4 million dollars worth," Morgan told CNN.
United for Care, the Morgan-backed organization behind the initiative also said the GOP is blowing smoke.
"It's a very cynical argument," said Ben Pollara, the group's director and a Democratic fundraiser who is also helping raise campaign cash for Crist. "That has nothing to do with what we're doing."