Grammy Winner Natalie Cole Shares Her Story of Triumph Over Addiction at The Council on Alcohol and Drugs Houston Annual Spring Luncheon
Dawn Paul | 5/8/2014, 1:51 p.m. | Updated on 5/8/2014, 1:51 p.m.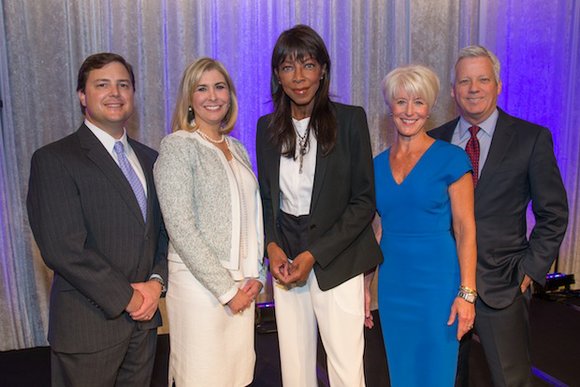 HOUSTON, TX - You might have said, "It doesn't happen in our social circle." You may have even heard others say, "It only happens in the poor areas." These are statements that can be heard or expressed when talking about alcohol and drug addiction, but the truth is that addiction crosses all racial barriers and social circles. Addiction doesn't discriminate and some people are still in denial about the countless faces of an addict. An addict can be the white collar executive, the soccer mom or the church member. Whatever the face of the addict, The Council on Alcohol and Drugs Houston (The Council) has been continuously committed and successful in providing services to all who may be impacted by alcohol and drug addiction.

Last week The Council hosted the Waggoners Foundation Speaker Series' 31st Annual Spring Luncheon to raise awareness and donations to help continue their plight against addiction. This year's event paid tribute to Virgil Waggoner, who passed away late last year. The Waggoner family has been instrumental in The Council's work in the community successfully treating drug and alcohol addiction. Grammy winner Natalie Cole was the keynote speaker and shared her powerful and inspirational story of addiction and recovery with over 1,100 attendees. Courageous and confident, Cole didn't hold back giving the raw and real truth about her personal experiences and struggles with addiction. Like so many others, Cole had difficulty facing this hurdle head on, but with successful treatment and support she is a shining example that there is hope and a rainbow at the end. Natalie Cole proves that you can successfully survive after addiction and treatment. The Council's work educates the community daily about addiction and exposes the community to the truth that the face of an addict can be anyone, no matter the background. Last week's event brought in over $500,000 for The Council to continue to help their clients with treatment, education and prevention. This annual fundraiser assists The Council in providing quality services to as many as possible, turning no one away.
The Council was founded in 1946 and for over five decades this agency has changed the lives of clients and their families with effective treatment against drug and alcohol addiction. The Council continues to reach new heights in treating addiction because of their sensitive and unique approach in treating not just the addict, but also providing education and services for their entire family. The Council's Kids Camp is an important facet of the treatment process that helps parents and children (ages 7-12) open the lines of communication and heal family relationships. Also, their clinical team is comprised of licensed health professionals, graduate interns and post-graduate fellows. The Council's clinical team has significant experience in substance abuse treatment. They not only treat the addiction, but the mental health disorder that can come along with an addiction. The Council's concurrent treatment of these issues increases the chance for an addict to have successful recovery. The Council's numerous testimonies from clients and their families show why their work is necessary and celebrated.
Addiction affects one in four Houstonians and there are still unfortunately a number of myths about addiction that lead to shame and stigma, but The Council works daily to overcome this challenge in our community. With events like the Waggoners Foundation Speaker Series' Annual Spring Luncheon bringing in speakers like Natalie Cole, The Council will be around for many years to come continuing to heal our community. To learn more about The Council on Alcohol and Drugs Houston, visit www.Council-Houston.org.