Community Will Call on Waste Management's Shareholders at their Annual Meeting To Clean Up the San Jacinto Waste Pits Superfund Site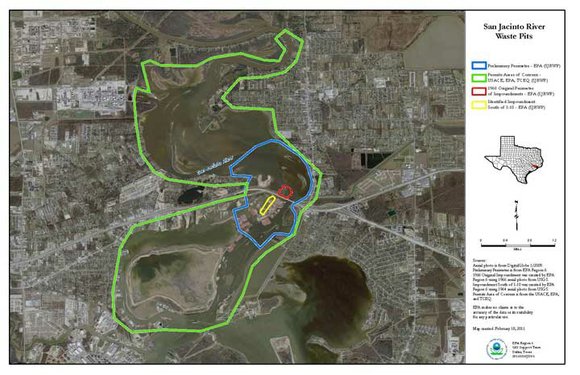 The San Jacinto River Coalition will host a press conference on Tuesday morning, May 13, during Waste Management Inc.'s annual shareholder meeting at its headquarters in Houston. The Coalition will call for Waste Management to be good corporate citizens and to remove fully and permanently their highly toxic wastes from this Harris County superfund site. Residents and community leaders will demand the Houston-based Fortune 500 Company protect our community by removing fully their toxic wastes submerged in the River near the Gulf Coast, so that our citizens, fisheries, and environment don't suffer grave harm from our inevitable hurricanes and tidal surges.
Who: The San Jacinto River Coalition along with Texans Together, and residents and community leaders from East Harris County.
What: Press Conference to Demand Shareholder Action
When: Tuesday, May 13th – 10:45 am. Rain or Shine- Media tent provided.
Where: Waste Management Inc. – 1001 Fannin, Houston, TX, 77002
Why: This superfund site—with its hundreds of tons of highly toxic wastes submerged in the San Jacinto near the Texas Coast—gravely threatens our communities' health, fish, and environment. When a tidal surge or hurricane hits this site's temporarily capped toxic wastes, it will spread the harmful dioxins and furans throughout East Harris County, the San Jacinto River, and Galveston Bay. A good corporate citizen should not leave their community subject to such grave danger. Waste Management Inc. wholly owns and operates McGinnis Industrial Maintenance, which dumped the toxic wastes at the Site in the 1960s. Waste Management to date has refused to remove the waste from this highly vulnerable site. It's time for Waste Management to be a responsible company and cleanup its highly dangerous mess.

For more information, visit www.sjrc.texanstogether.org/