Adam Silver: No additional time
Willie Grace | 5/21/2014, 6:55 p.m. | Updated on 5/21/2014, 6:55 p.m.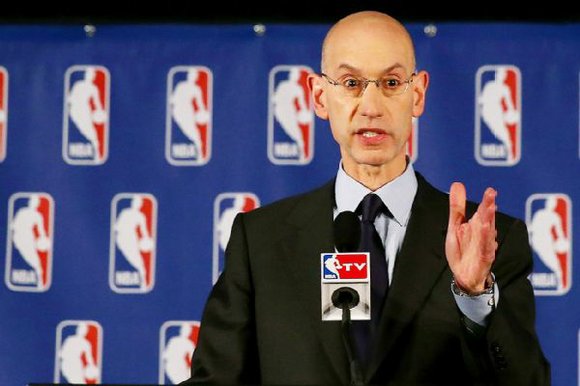 In his first news conference since banning Donald Sterling from the NBA for life, commissioner Adam Silver expressed confidence in the direction the league has taken in trying to pry control of the Los Angeles Clippers from the embattled owner.
"We know we're doing the right thing, and I know I have the owners behind me," Silver said, one day after the NBA charged Sterling with damaging the league with his racist comments and set a hearing for June 3.
Sterling has until May 27 to respond to the charge, and he has the right to appear at the hearing and make a presentation in front of the board of governors. If Sterling does not respond by May 27, that will be grounds for termination.
Sterling has asked for a three-month delay in the hearing, sources told ESPN.com.
Silver said the timeline will not be extended.
"In terms of additional time, the answer has been no," Silver said. "The proceedings and the process is set out in our constitution, something they signed on for when they became owners in the league."
The owners' vote on whether to oust Sterling will take place after the hearing, which will be held in New York.
"I'll say that we've had strong leadership from Glen Taylor, who's the chairman of our board, and Peter Holt, who just recently stepped down as the former chairman or who had been the former chairman of the board," Silver said. "We have a very active advisory finance committee, which is 10 NBA owners who have been meeting on a regular basis to discuss these proceedings, and the timing is laid out in the NBA constitution. We're following it to the letter in terms of numbers of days that Mr. Sterling has to respond and then when the hearing will be held, and as I said, I know we're doing the right thing here. This is an unprecedented proceeding.
"Will there be bumps in the road? Presumably yes. Mr. Sterling on one hand at least in his CNN interview indicated a willingness to accept the judgment of his owner partners. His lawyers are saying otherwise, so we'll see.
"But this will all get worked out. I know we're pursuing the right course here and doing the right thing."
Silver, who previously released a statement castigating Sterling for further comments he made criticizing Magic Johnson during a CNN interview May 12 with Anderson Cooper, elaborated on his disappointment in having to deal with Sterling while the public's attention could be focused on positive events such as the playoffs, which have reached the conference finals, or the upcoming draft.
"Your question makes me think of Kevin Durant's MVP speech," Silver said. "I remember at one point Kevin Durant says, really in addressing his mother who was sitting in the audience at the end of the speech, I'm paraphrasing, I think, but he said something like, 'Mom, we weren't supposed to be here. The deck was stacked against us.' I get choked up a little bit just remembering watching him give that speech, and I think Kevin Durant as our most valuable player embodies what this league is all about, and frankly Mr. Sterling doesn't."