Lil Wayne Threatens To Murder Justin Bieber's Manager
Willie Grace | 5/27/2014, 5:37 p.m. | Updated on 5/27/2014, 5:37 p.m.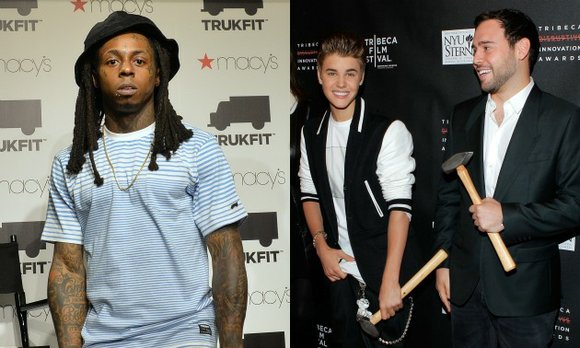 It looks like rapper Lil Wayne is back to his outlaw ways. The Young Money leader recently recorded a video where he threatened to murder Scooter Braun, the manger of pop star Justin Bieber. Why is Weezy threatening Scooter Braun? Apparently, Braun hasn't had nice things to say about YMCMB artist Lil Twist and Weezy is defending his honor.
This beef is old and seemingly done until this recent clip surfaced on the internet. The beef between Scooter Braun and Lil Twist started last summer when Justin Bieber first started acting like a "thug" and getting into trouble. Braun told to anyone who would listen that Twist was a bad influence on Bieber. Bieber and Twist are very good friends and Twist even lived in Bieber's Calabasas, California mansion. However, when Bieber started getting into even more trouble, Lil Twist moved out.
However, in the new video Weezy reignites the stale beef by calling Braun a "b*ch na" and venomously spewing into the camera that if Braun kept running his mouth about Lil Twist, he wouldn't make him eat his words, but make sure that "them bches on your tombstone." Angry much?
While we know the back story, we still aren't too sure why Lil Wayne made the video now. Braun hasn't made any acknowledgement of Lil Twist since he moved out of Justin Bieber's house. All we know is Weezy better calm down with making these threats and recording them. Isn't he still on probation? And even if he isn't you know some police officer is somewhere waiting for Weezy to mess up so he can be hauled off to prison again.
For more information go to http://www.theurbandaily.com