2014 Lexus LS 460 L Review
CoCo Dominguez | 5/29/2014, 10 a.m. | Updated on 5/29/2014, 10 a.m.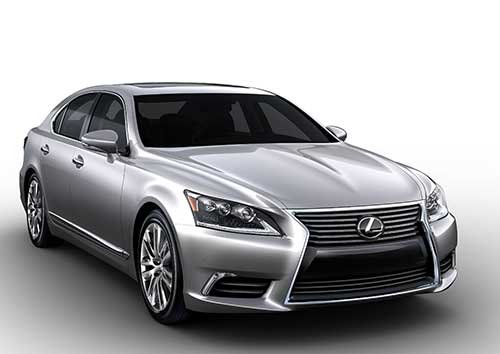 Recently, I had the pleasure of driving the latest in Lexus's well-known premium luxury sedan line, the new 2014 Lexus LS 460 L. It was so luxurious, I'm missing it already. From the moment I stepped into it, I knew it had class and oversized sophistication. Featuring a polished V8 eight-speed automatic transmission, superior detailed amenities and for the first time, an extended wheelbase model. The longer LS, in the Lexus LS 460 L, provides more legroom for rear-seat passengers and is comparable to models offered by European luxury-brand automakers. It is also equipped with hollow chamber 18" aluminum wheels and a full size spare tire.
With so much attention to detail, it feels as if the 2014 Lexus LS 460 L was customized for you, the driver. The cabin is beautifully finished with rich leather and gorgeous wood trim along with other high grade materials. The 12.3-inch display sits perfectly atop the dashboard with a joystick device that is very easy and familiar to manuever. Some of the luxury and convenience features on the 2014 Lexus LS 460 L include one-touch open/close power tilt and slide moonroof, intuitive park assist, smart access with push button start/stop, Lexus 10-speaker premium bound system with digital sound processor, bluetooth technology, USB audio plug/Sirius XM satellite radio (with subscription) and HD radio.
When it comes to comfort, the Lexus LS 460 offers so many options - from the seatbelt adjuster to the multi-adjustable climate comfort seats which allow you to set the temperature of each individual seat cushion. As a Houstonian, I have to admit that this is one of my favorite features (keeping cool is key). The automatic power rear window shade, which keeps your car cool on hot summer days and the heated steering wheel that keeps your hands warm in the winter is an additional bonus.
Normally people want to ride in the front, but with so much space and amenities in the back, I'll take that back seat any time! Now, if I could just find a driver. Massaging seats with full recline make for a perfect ride. Full audio and 4 zone climate control are accessible to your back seat passengers as well.

Along with luxury, safety is also important when purchasing a new vehicle. There's no denying the 2014 Lexus LS 460 L gives you that security you are looking for. Oh, did I mention the auto door closer? If you accidentally fail to completely close your door, have no worries, the door will automatically be pulled in and closed for you. How awesome is that? Additional safety features include driver and front passenger's advanced airbag system - ncluding knee airbags, twin-chamber airbags, mounted side airbags and curtain airbags. Automatic collision notification, stolen vehicle location, emergency assist button and enhanced roadside assistance are also available for complete peace of mind.
Like many , I'm always on-the-go and find myself spending a lot of time in my car. The 2014 Lexux LS 460 L makes it easy to want to do just that. It's hard to imagine all this goodness in one car but Lexus managed to do so. Head on over to your nearest Lexus dealership to experience the luxury for yourself. For more information, visit www.lexus.com.