Rex Ryan uses false stat to pump up Eric Decker and take shot at Tim Tebow
Willie Grace | 5/29/2014, 5:54 p.m. | Updated on 5/29/2014, 5:54 p.m.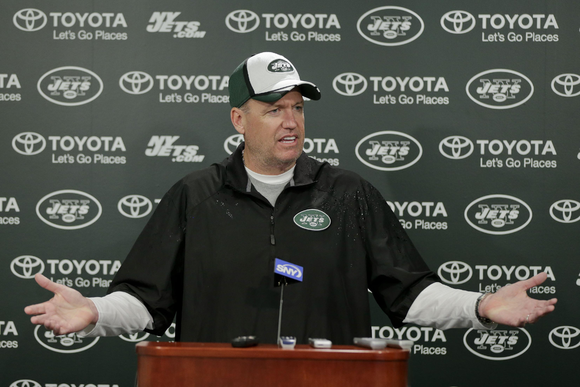 This is brilliant on so many levels.
When asked if Eric Decker can become the New York Jets' No. 1 wide receiver, head coach Rex Ryan had a great retort.
"[Decker] did catch eight touchdown passes when [Tim] Tebow was the quarterback," Ryan said, via Newsday. "Hey, that's pretty impressive."
We're not sure which part we like best.
There's ...
A. The fact that Ryan didn't really choose to answer the question directly.
B. The way Ryan managed to diss his old QB as a method of semi-pumping up his new receiver.
Or, C. The fact that Ryan's stat isn't actually correct. Not really close, even.
We'll go with D. All of the above, please. And let's dissect these one at a time.
Decker is a solid NFL receiver. He was a perfect complement to Demaryius Thomas, Wes Welker and Julius Thomas last season with the Denver Broncos. Decker accounted for 23.7 percent of the team's passing yards and 20 percent of the receiving touchdowns.
If you extrapolate those percentages to the Jets' passing totals from a year ago, Decker — with far less help around him — would be in range for about 694 receiving yards and 3 TD catches (if we round up). That's hardly a fair comparison, but it does put into perspective what the expectations might reasonably be.
OK, Tebow. Yeah, this is funny stuff. This just further proves that Rex had no use for the guy. Didn't want him as a quarterback, didn't want him as a Wildcat guy, just didn't want him in general. Rex might have had a decent say in picking another quarterback (Mark Sanchez), and when that went south his personnel privileges were usurped. But his humor clearly remains unshackled, and any chance to take a shot at Tebow — even two years after the guy's final snap with the team — remains a viable option. We love it.
But here's the funny part about that 8-TD number Ryan cited: it's not correct. Decker caught one touchdown pass as a rookie in 2010 and, yes, eight more in 2011. But Tebow only was the thrower on five of them — one in the Week 17 finale in 2010 and four more during that miracle season of 2011, the rest coming from Kyle Orton — over those two years. Tebow then was traded to Ryan's Jets the following offseason in 2012.
Eight, five ... what's the difference? In Ryan's mind, any touchdowns from his former quarterback would represent a minor miracle.
Still, the Jets need Decker to be something prominent, you know? Ryan might not call him a true No. 1, but he did indicate that Decker would be their featured wideout.
"Clearly, [Decker] is going to be a go-to guy," Ryan said. "We know what we're getting. This is going to be a guy that you can get him the ball in critical situations."
And Rex managed to provide us with a great laugh along the way. Well done, sir.
For more information go to http://sports.yahoo.com